Earlier this month, we brought you an article written by Bee Harrison, her account of their visit to Adıyaman, four weeks after the earthquake. You can read the article here if you missed it.
We are delighted to say that the article raised enough in donations to be able to give the children of Adıyaman a treat for Şeker Bayramı.
Thank you to Bee Harrison for the update and Songul Bozkurt for the photographs.
A joyful day for the children of Adıyaman
Today is National Sovereignty and Children's Day (Ulusal Egemenlik ve Çocuk Bayramı) a public holiday in Turkey commemorating the foundation of the Grand National Assembly of Turkey, on 23 April 1920.
No better day than to share our Şeker Bayram photographs of the children we visited previously in the tent city. The camp is growing now and there are lots more children to treat. This time it was a happy day, the sun was shining and it's lovely to see the kids dressed up for Bayram.
We were able to help out with donations we received, supplying desserts, sweets and balloons, along with Adem and his wonderful kitchen along with my sister-in-law, who all did an outstanding job, I just wish I could have been there. Thank you to all and I think the balloons went down a treat, although we will probably need to supply toothbrushes after all that sugar!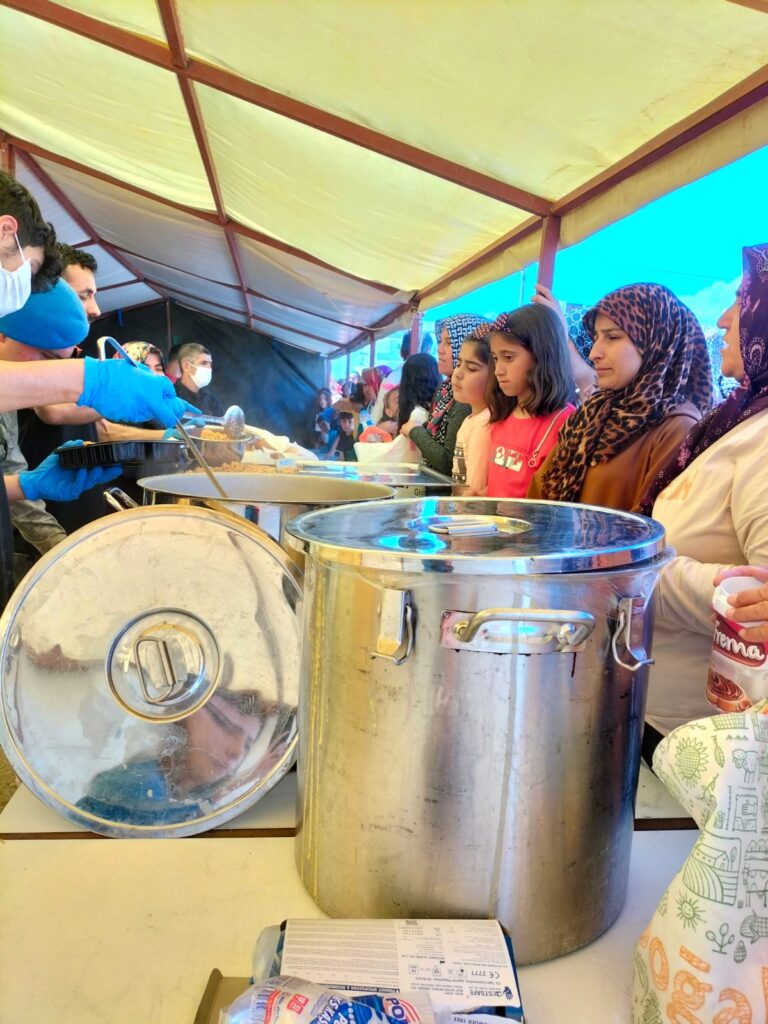 We still have enough in the pot to help out for another occasion, so will update you. Part of Özlem's Turkish Table donations will help children in the Antakya area where Özlem is from. So, all in all, it's been a great success, the children will continue to need support and a little bit of joy, if you wish to help you can purchase Özlem's book here in Turkey, this is still ongoing and the book is available at Sumak Café, Üzümlü. All proceeds will be donated to help the children of South-eastern Türkiye.
To all our donors, we really would not have started this without you and to everyone who helped us achieve what we accomplished – Thank you!
If you wish to help or donate, please contact us via:
Sumak Café, Üzümlü: Facebook: https://www.facebook.com/sumakcafeuzumlu
Instagram: https://www.instagram.com/blossomhill_uzumlu
Email: info@essenceofturkey.com