Much-loved Çalış resident, Lee Stevenson, has died at the age of 55.
Lee died in Southampton hospital on Monday 24th April, 2023, at 11.15 am after having been diagnosed with a malignant brain tumour in early March.
Lee travelled back to the UK for tests however, the tumour was discovered to be inoperable and Lee died a few weeks later.
Thank you to Samantha Stevenson for enabling us to write this tribute to Lee by talking with us at such a sad time.
A chilli-growing, dart-throwing, Pompey fan.
Born on 16th March 1968 in Portsmouth, Lee described himself as a chilli-growing, dart-throwing, Pompey fan.
He loved his Portsmouth football team where he, along with his wife Sam, had a season ticket.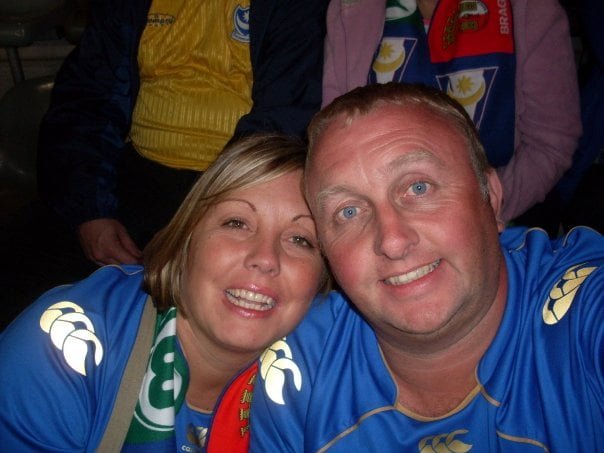 He was a wines & spirits buyer for Batleys Cash and Carry and loved the job. Lee was known for his banter and quick wit and enjoyed a good-natured relationship with the reps.
He loved playing darts in Portsmouth and, when Lee and Sam moved to Çalış 6 years ago, he started playing for Bambu, and then Cahide.
He loved gardening and learnt about cactus from his Nan, and garlic and chillies from his uncle.
Lee was well-known for his Facebook group – An English Gardener in Çalış – and helped and advised many people in Çalış on gardening in a hot climate. He could often be seen cycling along to give people herbs, plants or seeds.
There was a comment on the Facebook group that made Sam laugh. Someone had said that they didn't know Lee but had met him – as he met everyone outside Cahide where he gave them some herbs (no name just herbs). That was Lee, helping and giving people things, but he wouldn't have really made conversation, just an "enjoy the plant" and off he would go his bike 🤣.
Lee wrote a popular gardening column for Fethiye Times for over a year. He was a pleasure to work with.
He was such a chilli lover that he organised the annual Chilli Eating competition in Çalış.
Lee is described by family and friends as a gentle giant, a kind and caring man who was always willing to help others. He was quick-witted and funny, although most of the time he would just sit back and observe.
A minute's silence was held for Lee at Cahide on Monday 24th April in the evening. Click here to watch the video.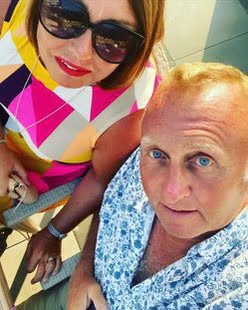 A message from Sam
"It is with a massive broken heart and great sadness my beautiful caring blue eyed husband and best friend Lee Stevenson sadly passed away.
Lee had only been poorly for 5 weeks and was diagnosed in Turkey, but we decided, as we knew it was really bad, to come back to the UK. He died peacefully on Monday morning with sam and friends by his side, listening to his favourite music – Wings of a Dove by Madness. Right up until Saturday he was still eating his favourite things including garlic and hot sauce, and telling jokes and being Lee.
I would like to say thank you to everyone who has been there for us travelling up and down everyday with me making sure I spent all the time I could with him, I couldn't have done this without some amazing special people and friends who are our family.
Seeing all the tributes to him is heartbreaking, but it is also comforting at the same time to see how much he was loved.
I'm totally overwhelmed with all the support and the kind words, and the minutes silence the darts teams did on Monday. I was blown away.
We had a fantastic happy 18 years together and 6 wonderful years in Turkey. No regrets! I miss him so much" ~ Samantha Stevenson
Here are just a few of the messages that have poured in from his friends.
"Lee was a very giving person to the community and got involved in a number of different things that benefitted the community as a whole. However the thing I remember most about Lee was that he was a joy to be around. He had a 'joie de vivre' that rubbed off on everyone. He will be sadly missed." ~ Nigel Barry
Nigel also wrote this poem for Lee.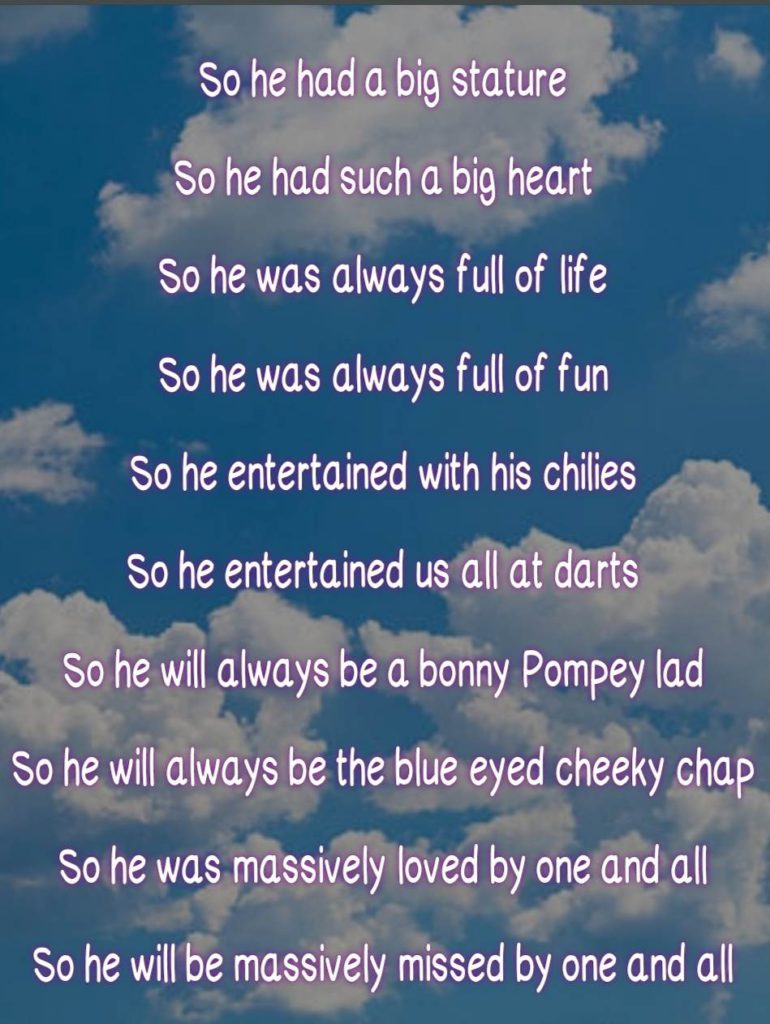 "Sleep peacefully now our gentle giant, chilli man, garden lover and all round good hearted, funny fella… so glad we got to spend special moments in time with you Lee Stevenson …. fly high blue eyes
" ~ Deborah Smith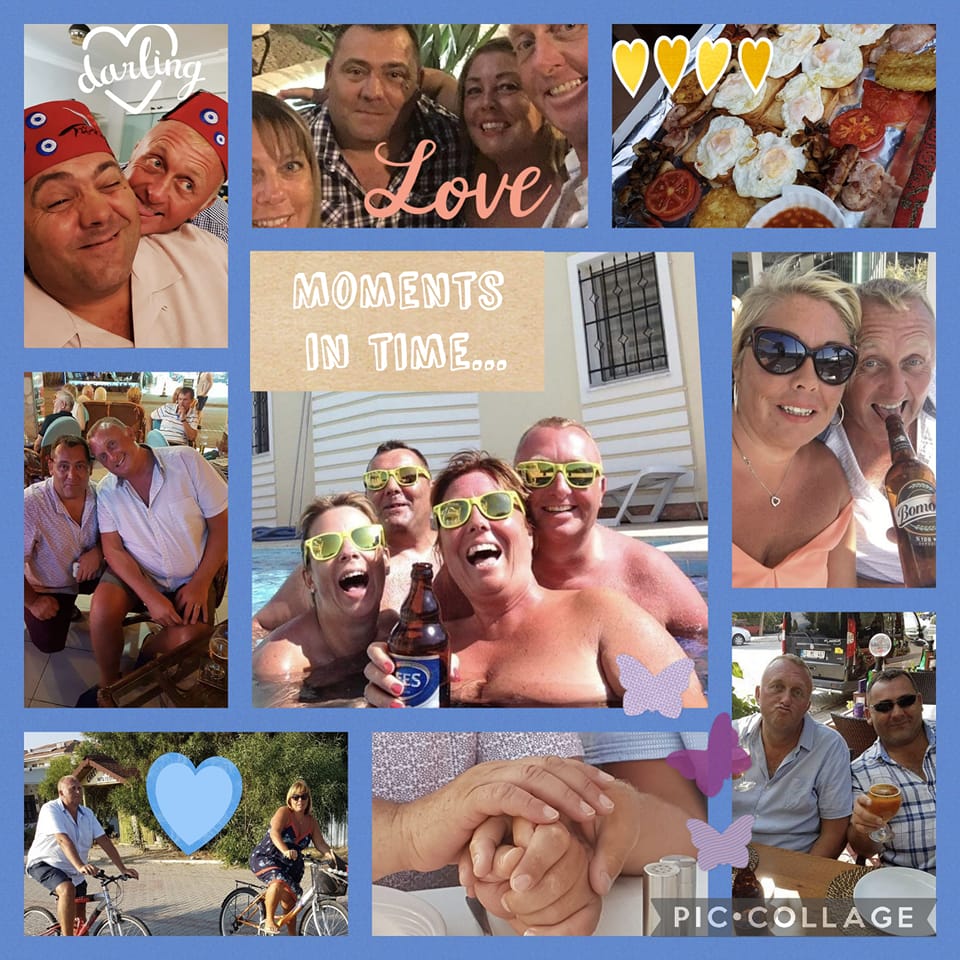 "I am so sad to hear about my friend and work colleague from Nurdin and Peacock, although we lost touch through our busy lives I did often see his funny posts on line and what an amazing life he had abroad with his wife.
We were drinking partners in the late eighties and we would meet up most Tuesday's for a beer down the Nell Gwyne and bring back a curry to my mum's afterwards.
I am so glad we did get in contact and spoke over the phone at one stage.
Rest in peace good buddy, I will be there for you on you on the 9th.
Good memories to be shared with everyone and hope to hear some of his stories told by others. RIP my dear friend." ~ Lee Weeks
"Today I have lost a true, remarkable and unique friend. A gentle giant, kind and generous. We were both big kids at heart and when we visited your home in Turkey it was like we had never been apart. We would always pick up with the silliness of our childhood years! We've had so much fun and our similar sense of humour had each of us in stitches at the annoyance of others and blaming each other. It was always like turning the clock back when we met. We knew each other as toddlers from the tough Somers Town days and even moved to Gatcombe Park within weeks of each other, the gang was back together again. We maintained contact over the many years and I saw you as the big bro I never had, you were 3 weeks older than me
! You made Tina, Ash and Chloe laugh with your one liners, cheesy jokes and windy moments which brought a choking smile to everybody's face with eyes rolling. Such a great big softy and I feel privileged to be your friend. Until we meet again, sleep tight Tomato man, keep those flowers, fruit and veggies well-watered up in the sky xx" ~ Steve McCloud
Photo from Steve McCloud: Queens Silver Jubilee 1977. Lee with the shocking blonde hair and Frankenstein tee shirt.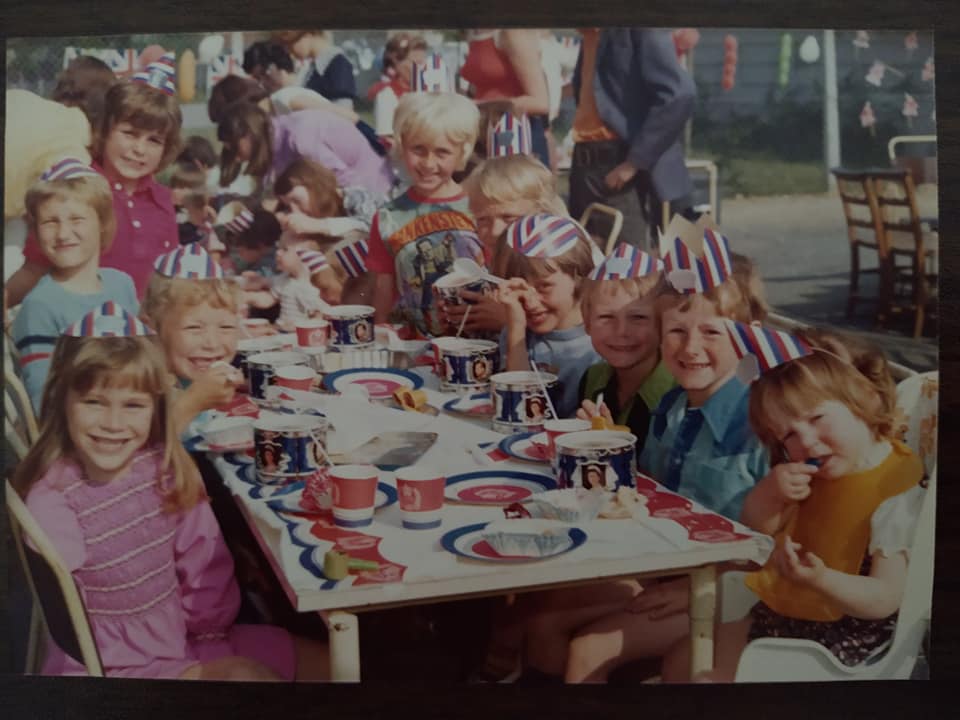 When Lee met Dom!
When Lee met Dom and sold him giant pumpkin plants at Cahide Bar, he never came back and said don't get done, get Dom! So Lee must have sold him the right plants 🌱 🤣💔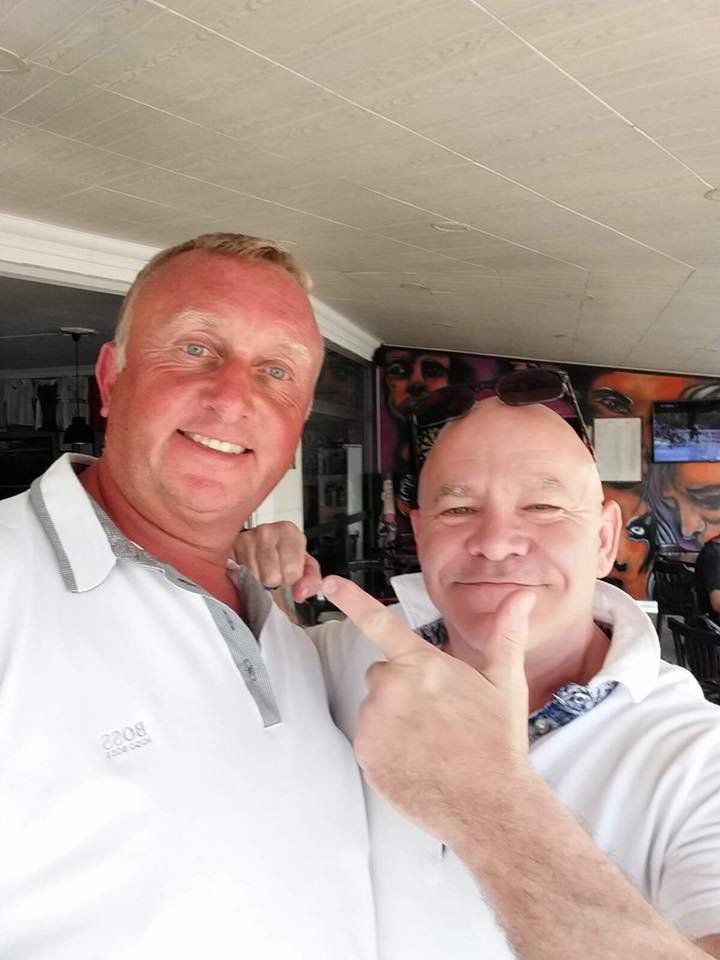 Lee's funeral will be held on Tuesday 9th May at the Oaks In Havant. There will be a live stream in Cahide Bar at 13.30.
In Loving Memory
Lee Stevenson
1968 – 2023