This article was written for Fethiye Times by Steve Parsley.
If you live in Fethiye or visit regularly, Rhodes can be a distant shape low on the horizon on a clear day or even a line of faraway lights after sunset.
A European outpost just 50 miles long and 25 miles wide (give or take) it lies approximately 50 miles off the Turkish coast – twice the distance of the crossing between Dover and Calais.
But the surrounding Mediterranean has never really prevented the island from playing a crucial part in human history, with the first settlements recorded around 800 BC.
Greeks, Romans, Byzantines, crusaders from Europe, Ottomans and Italians have all forged their rich heritage since then. And – although it's now once again very much a part of Greece – modern Rhodes still welcomes travellers from all over the world, who arrive both on board gargantuan cruise ships and at the international airport at Diagoras – the nation's third-busiest destination for international passengers.
The crossing from Fethiye
Visitors from Turkey will mostly arrive by ferry, either from Marmaris or Fethiye, the journey from the former the shorter of the two.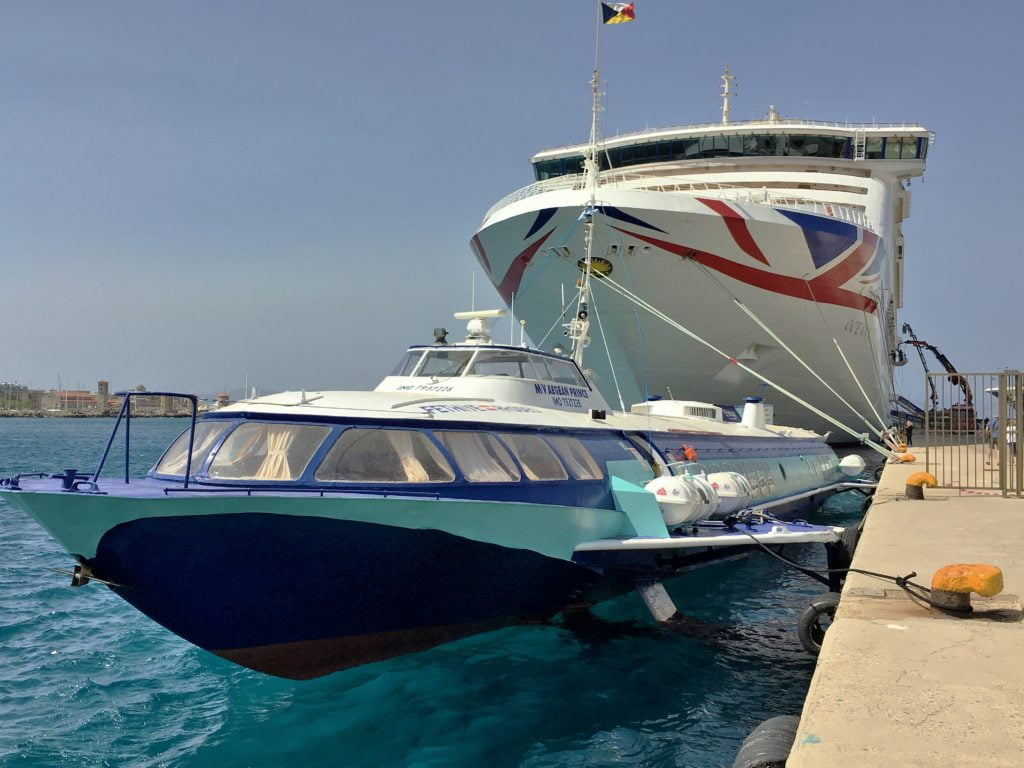 However, services from Fethiye include the hydrofoil link provided by the Dodecanese "Flying Dolphins" which cuts the journey time to just 90 minutes. 
Similarly equipped to an aircraft, the sensation of skimming over the water is exhilarating and a little reminiscent of an airliner. Be aware though that, if the sea is rough, the sleek craft will come off its planes and travel in a conventional manner and at a more sedate pace than its top cruising speed of 35 knots.
The seats are equipped with seatbelts, comfortable enough and can be reclined; passenger toilets are available and there is a snack bar on board if you feel sufficiently sure-footed to explore the three cabins.
There is even an open deck at the rear of the vessel with some limited seating although, if you decide to venture outside, be warned to keep a firm hold of cameras, hats, sunglasses and phones.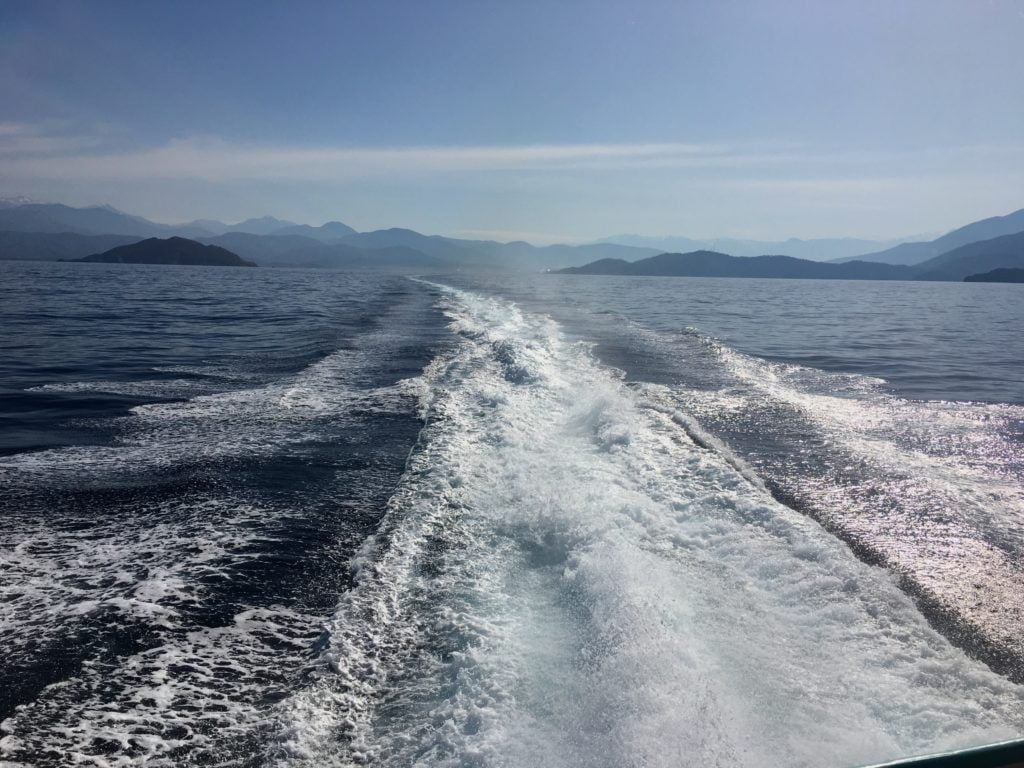 Bookings can be made at the Ocean Yachting offices opposite the wharf on Fethiye harbour.
Boarding cards are issued on the day of your journey from the kiosk at the entrance to the jetty on production of the document issued to confirm your booking.
You will need to show your boarding card at passport control as well as any visa which permits travel from Turkey to Greece. Be aware that a passport with less than six months to run will exclude you from travelling.
Bags and any luggage will also be scanned before departure as well as on your return to Turkey.
Arrival in Rhodes
With ancient city walls visible all around the port it's hard not to be impressed by Rhodes' rich history even before you've set foot on the island.
There are no high-rise hotels, no beach umbrellas … just buttressed ramparts demanding to be explored.
But it may be a little while before you have the opportunity to gaze over the city from one of the ancient vantage points. Rhodes is a busy port but not equipped with too many passport control booths, which can mean a long(ish) wait in direct sunlight before it's your turn to get your passport stamped.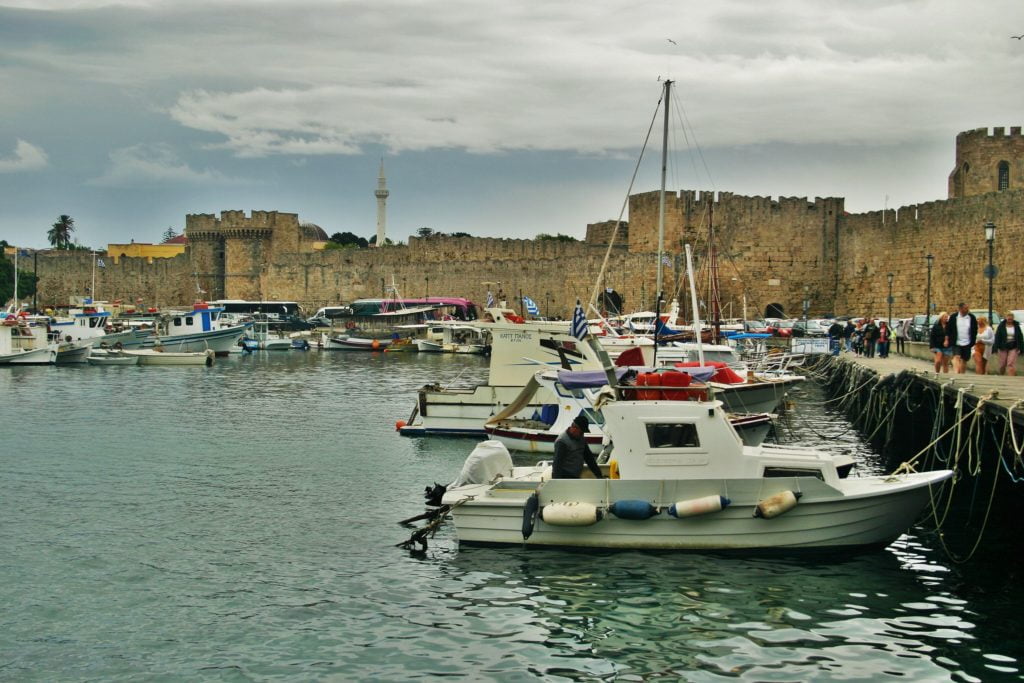 Rhodes town
Once through the gates though, entering through ancient portals into Rhodes old town feels a little like those first steps into a theme park; if you ignore the tourist trinket shops, it's like taking a step back in time.
Narrow alleys lead off cobbled streets lined with tavernas trying their best to be authentic while still meeting the demands of the modern-day traveller. Some manage, some don't…
But, if you're used to Turkey and you decide to try one, you may find it hard not to do a double-take at some of the prices. If you're visiting for a day, what you paid for a glass of çay may be a story you take back with you.
But, if you're staying longer, it's probably best to just stop doing the currency conversions and try to focus on the experience instead – and Rhodes certainly offers plenty of opportunity.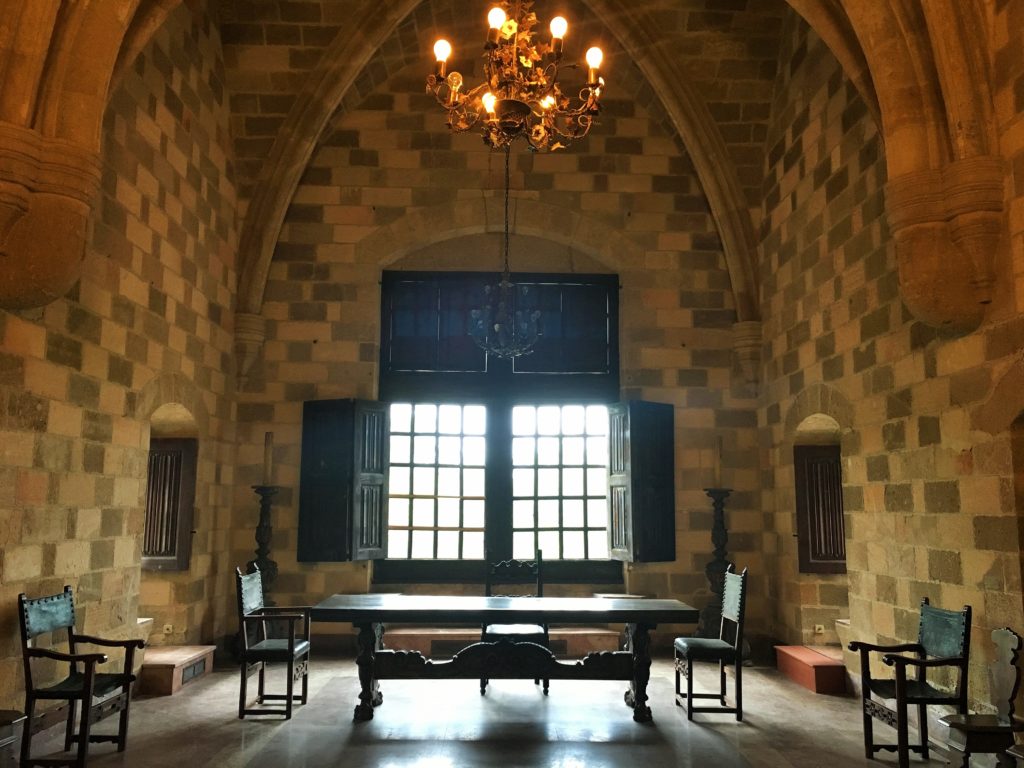 The Palace of the Knights of The Grand Master, the Rhodes Archaeological Museum, the Museum of Modern Greek Art, Roman ruins and numerous old churches and mosques are crammed into the old town itself.
Venture a little further outside the walls and you will find a small aquarium, the requisite umbrellas and sunbeds on Elli Beach and all the modern shops you could want. 
There are numerous boat trips, city tours on open-topped buses as well as the land train.
A meal for two with drinks can cost anything between €60* to €80 although it's worth exploring the side streets to find your own favourites off the beaten track.
Just like anywhere else, tavernas and restaurants in prime locations will charge top dollar. Look a little harder and you may find some hidden gems and pay a bit less.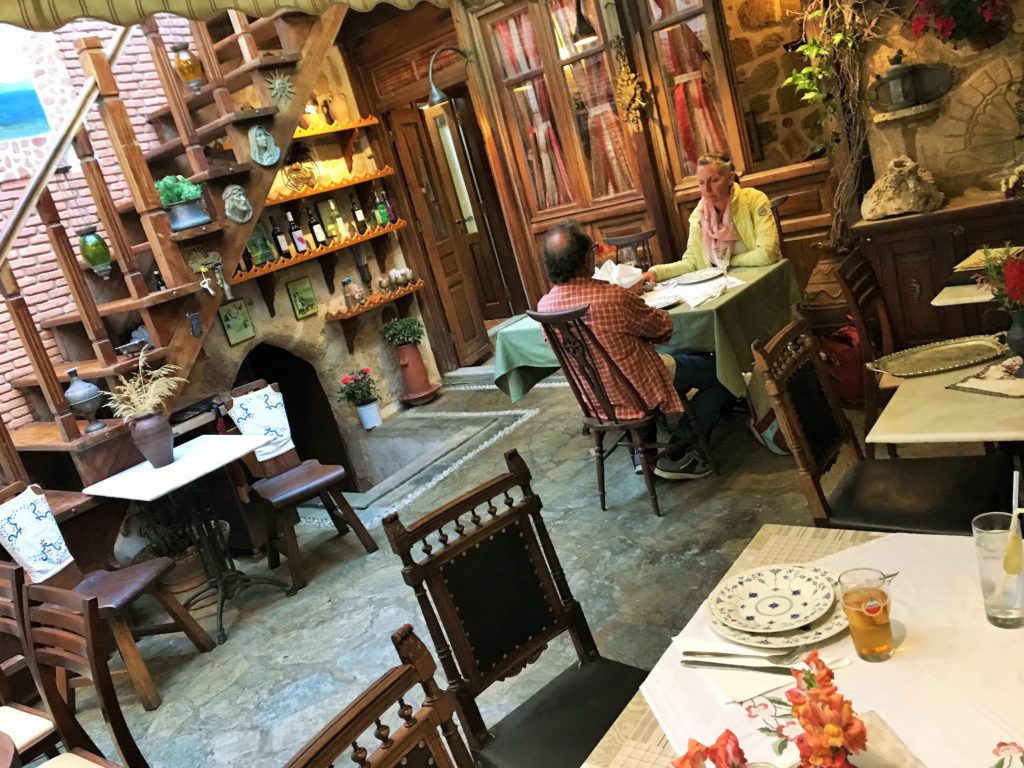 One piece of advice based on personal experience, though; don't bother with Rodini Park. It's still touted on some websites as a delightful oasis in the middle of the city, with quaint wooden bridges over running water.
In reality, it's sadly neglected, daubed with graffiti and with some of its paths barricaded; a small performance space and what once may have been a cafeteria or gift shop is now abandoned and overgrown.
A victim of Greece's recent financial challenges? Perhaps. But it shouldn't deter anyone from visiting the rest of the city or the island which both have so much more to offer – including the sort of warm welcome the nation has every right to boast about.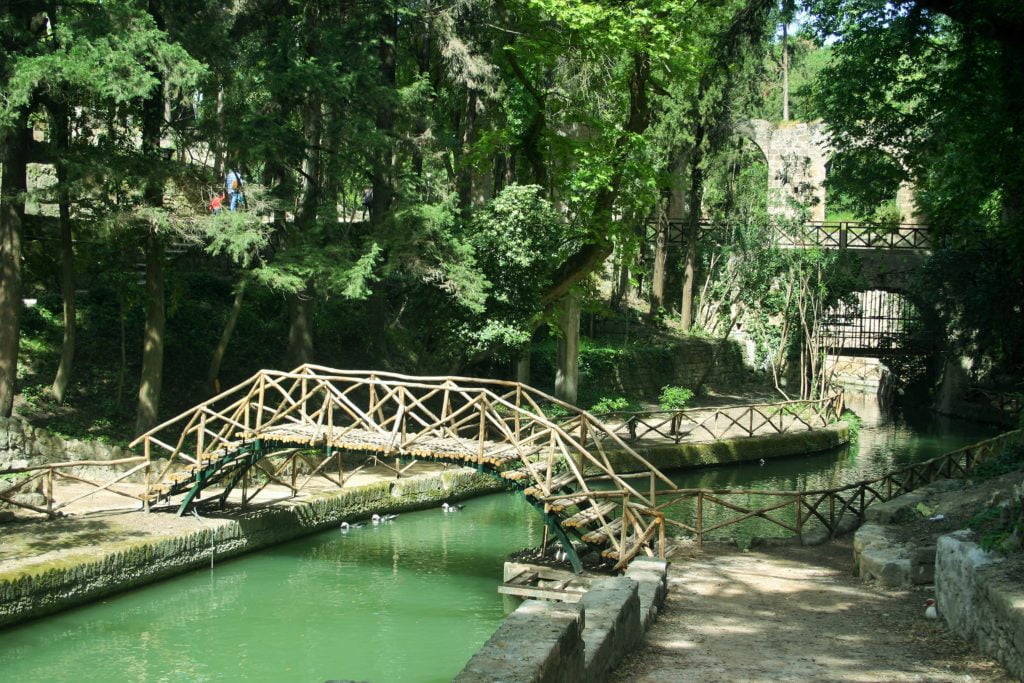 The island
If you're staying for more than a day – and Rhodes is definitely worth it – there's plenty to explore outside the city itself.
The island is by no means over-populated; there are open swathes of countryside including pine forests, vineyards and olive groves.
Other popular destinations include the resort towns of Lindos and Faliraki, which both contribute to the island's claim to be the second-most visited location in Greece, behind Crete.
They can be reached easily by bus – as can the Valley of the Butterflies in the Petaloudes district, just 20kms south of Rhodes itself.
If you prefer to venture away from the tourist traps, the small harbour at Haraki and the old fort at Feraklos nearby are worth a detour, as are the beaches at Stegna and Agathi, which are less prone to being overcrowded.
Numerous offices in and around the old town offer car and motorcycle hire with more details available from most hotel lobbies if required.
Accommodation in Rhodes
Rhodes offers everything from Airbnb rooms, bed and breakfast accommodation, small pension and boutique hotels as well as grand, modern places on the seafront in the "new" town. 
Whether you prefer luxury accommodation, a taste of the authentic, a family-run premises or just somewhere to dump your bags, shower and sleep, you'll be able to find something to suit your budget.
Hotels recently recommended on Facebook's Fethiye Expat Forum include The Lydia Hotel, offering modern accommodation at reasonable rates just north of the old town; the Hotel Attiki in the old town close to the Palace of the Knights of the Grand Master; and the S Nikolis' Boutique Hotel near the Aghious Athanasious Gate and the Tower of the Virgin Mary on the south side of the old town.
Prices can range from under €100 a night to over €300 depending on your preferences. Most are inclusive of breakfast but don't necessarily include dinner; it would be wise to check before booking.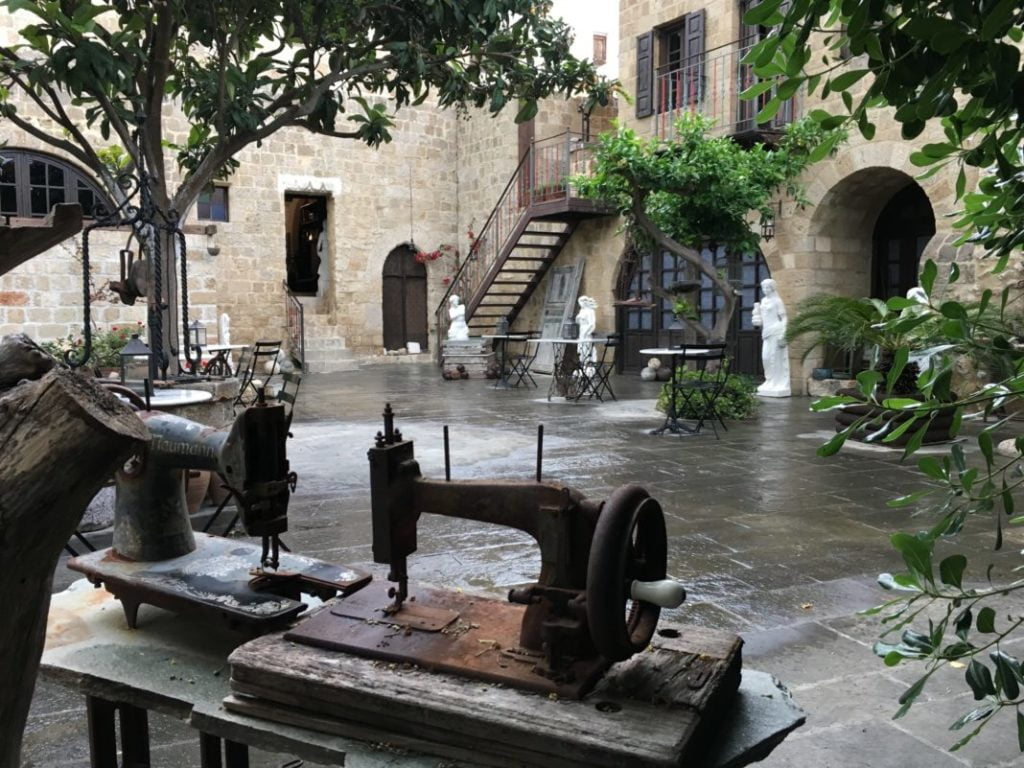 Passport trips
The tiny island of Meis just a 40-minute boat ride off the Turkish coast near Kaş is a popular choice for ex-pats looking for a stamp in their passport which allows them to hang onto driving licences issued in their home countries for another six months.
However, Rhodes is also an option and offers much more to do on the other side.
The drawbacks are that it can take quite a bit longer to get there and, as it's a larger port, getting through passport control can eat into what free time there is available.
But, if all you really want is that stamp, a meal somewhere nice, a bit of duty-free shopping and a fridge magnet to remember the trip, Rhodes ticks all the boxes.
Be warned though; if you haven't been before, it's highly likely you'll want to come back – albeit with a fatter wallet and more free time to explore.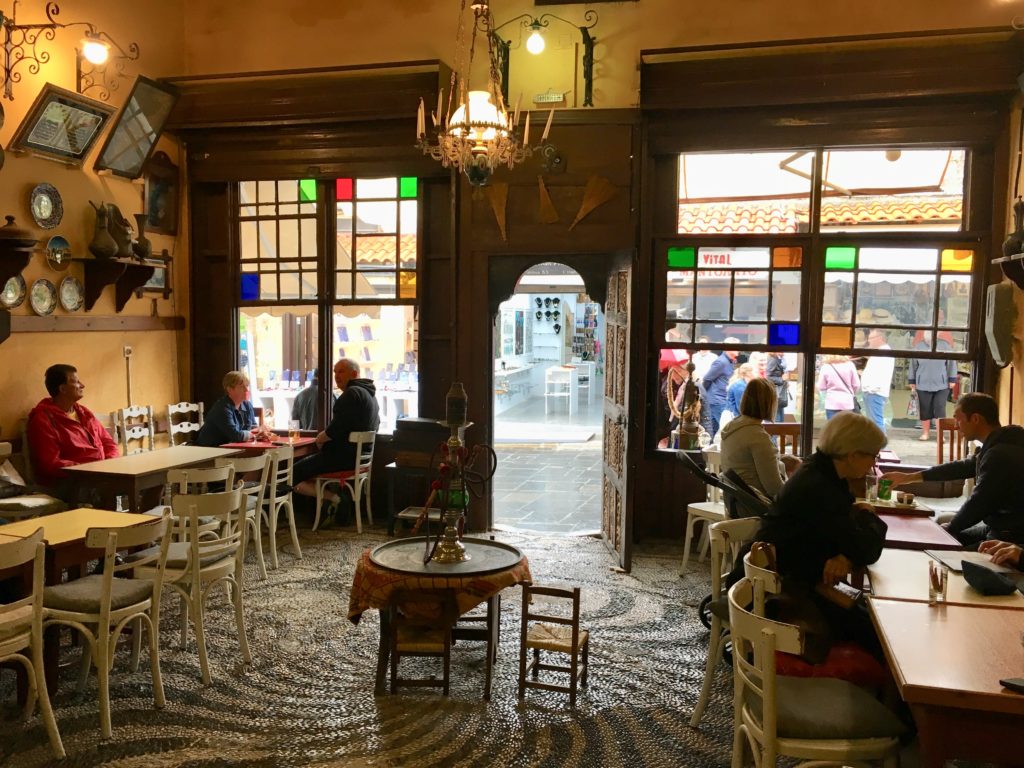 *Prices were all accurate at the time of publication but may be subject to change.