If the earth was a single state, Istanbul would be its capital."- Napoleon Bonaparte
Introduction and photographs by Julia Bayne
Have you fallen in love with Istanbul yet?
Previously known as Constantinople and before that Byzantium, the largest city and principal seaport of contemporary Türkiye is now waiting for you!
As an imperial power for more than 2,500 years, the city was the capital of the Byzantine and Ottoman Empires. Acting as both bridge and barrier, it has found itself between conflicting waves of religion and culture. For most of those years, it was one of the most desired cities in the world.

Istanbul holds layers of this history and intrigue which, should you choose to be curious, a 21st-century short stay can begin to uncover. If history isn't your thing, you'll still find a wealth of sensory experience and generous hospitality you'll never forget.
Come and see what all the fuss is about!
Let's go to Istanbul
If you want to do more than merely scratch the surface of Istanbul, you need a good couple of weeks, although not everyone has that luxury. A short stay with a carefully planned itinerary will still allow you to explore the essentials, although it will inevitably leave you with an insatiable hunger for more.
Any first-time visitor to Istanbul immediately becomes aware of the sense of ancient culture, a legacy of the city's distinguished history as the capital of three empires – the Roman, the Byzantine and the Ottoman. For nearly a thousand years this was one of the dominant cities of the Western and Near-Eastern worlds.
Besides the staggering wealth of its historical monuments, contemporary Istanbul is memorable for its vibrant, lively atmosphere, and, with the added magic of the city's sitting astride the Bosphorus straits and straddling two continents, it continues to fulfil the fantasies of visitors seeking a taste of the orient on the very edge of Europe.
To truly immerse yourself in this vital, energetic city, where history lives shoulder-to-shoulder with modern life, it's important to find the right place to stay.
Istanbul Place Apartments – historic apartments in Galata
Istanbul Place Apartments offers short-stay apartment rentals that place you at its very heart, offering a real-life experience of the Galata neighbourhood.
Owned by a Turkish-British family, international IT consultant Tarkan and professional photographer Julia bring together the best of their Turkish and British cultures to create Istanbul's finest heritage apartment rentals.
Here's an excerpt from an interview* in which Julia tells us more about Istanbul Place Apartments.
*Interview by Harjit Sohotey-Khan, first published on jewelledbuddha.com
Tell me about Istanbul Place Apartments. What's your vision for the business?
We wanted to bring together the best that our two cultures and backgrounds could offer, to help travellers from every direction fall in love with Istanbul. Galata's full of fabulous 19th Century architecture with European influences, for which I felt an unspoken understanding from the beginning. I've been able to respond to neglected buildings and bring apartments back to feeling 'well-loved' with our renovation work and creative flair. As an insider, Tarkan communicates very well with property owners, authorities and trades. He has great project management skills and can turn things around within tight deadlines. We handle guest enquiries and business development between us, often with very different perspectives!
Turkish hospitality is legendary and we're consistently thrilled to be able to offer it in stylish historic accommodation with unusual attention to detail. We hope to be able to carry on carrying on and to grow a little, always improving.
How do you create more of a local experience for your guests?
The apartments themselves are full of location-specific, bygone era character which we try to emphasise with interior design, books and furnishing. One of us always welcomes our guests in person to introduce their Istanbul home and neighbourhood and to be as helpful as possible with settling in. We're all then on hand for the whole visit via WhatsApp, phone or text as little or as much as required.
We also offer walking tours with one of our well-educated, intuitive female guides. These can be an introductory orientation walk or a more in-depth experience. For example, there's an 'Artisan' option, visiting the ateliers and workshops of craftspeople we know, or a 'Foodie' experience to sample rich and diverse Turkish cuisine that can otherwise be hard to access.
What do you love most about Turkish Culture and hospitality?
In my experience Turkish people have a deep love for life, with all its flaws, that's infectious and inclusive. The generosity, both material and in spirit, seeps into you as a traveller and you leave as a bigger-hearted, better person. Your waistline doesn't usually escape the growth either!
You can read the full interview with Julia here:
The apartments
Tarkan and Julia understand the importance of location and that's why all their apartments* are in Galata (*except Pera Place).
All the apartments are within historic buildings boasting high ceilings, large windows and atmospheric original features, yet renovated for stylish modern living and furnished for comfort.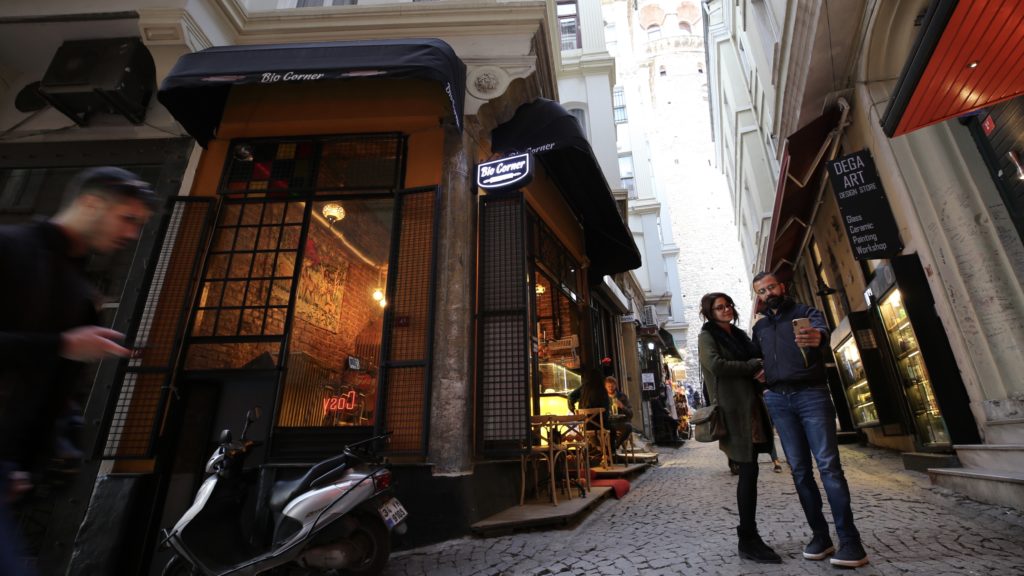 The interiors below are quite typical of the apartments.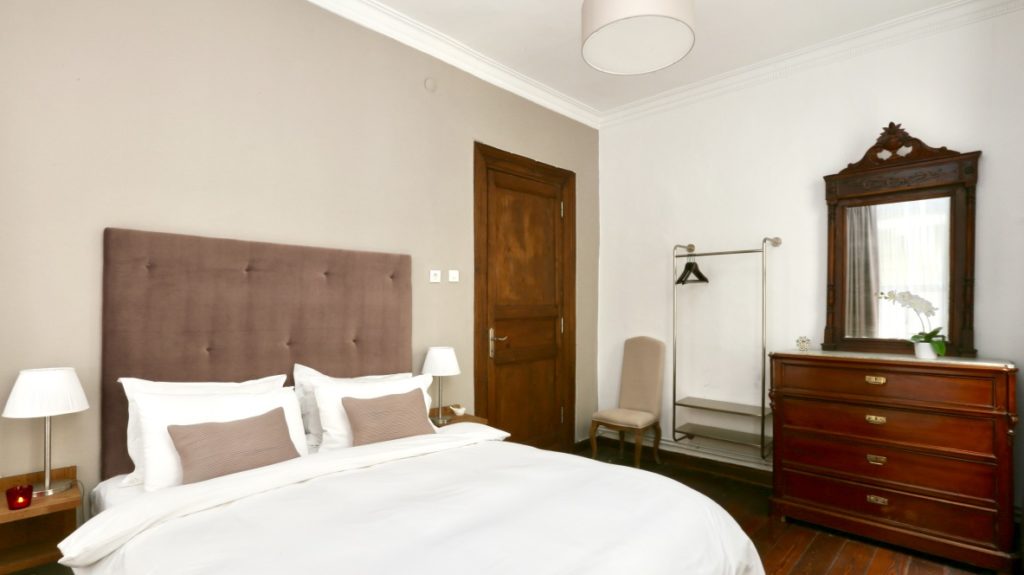 So much to see and do
When you travel to a big city like Istanbul where there is so much to see and do, you need to plan your trip and organize it well. You can visit the historical places and sights of the city and discover Istanbul's most attractive corners in a few days if you have a good plan. Istanbul.com is a useful website to help when you sit down to prepare your plan.
If you want some suggestions of things to do during your stay it's always a good idea to ask someone who lives there. Here are Julia's 5 favourite things to do in Istanbul.
* Jump on a ferry across the Bosphorus with little or no plan for the other side.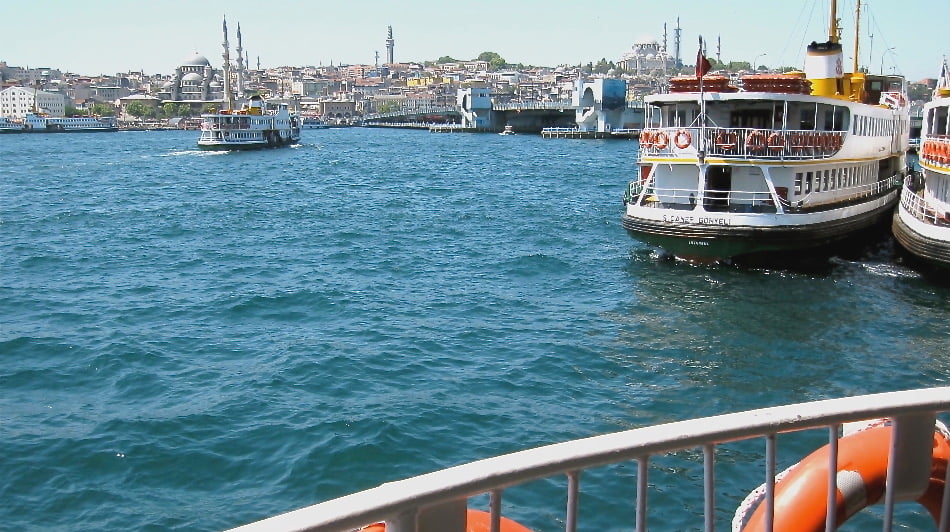 * Share a sunset drink on the Petraki Place rooftop, to the sound of the muezzins across the city calling for prayer.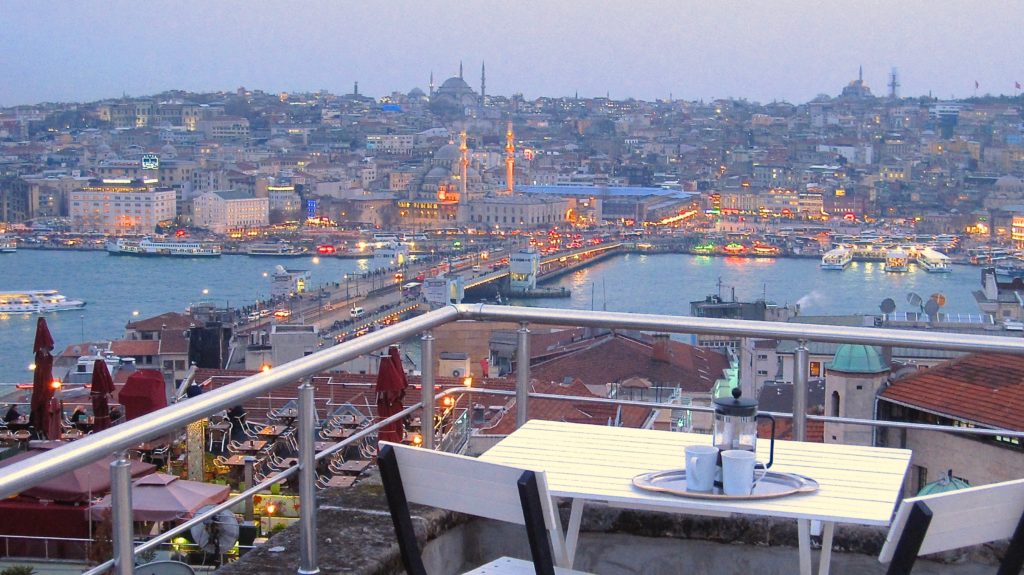 * Wander around Topkapı Palace and gardens on a Sunday.
* Treasure hunt in the antique bazaars of Üsküdar or Kadiköy.
* Spend time over a meal with Tarkan's lovely family, either in their home or a lively neighbourhood meyhane restaurant with rakı and roving musicians.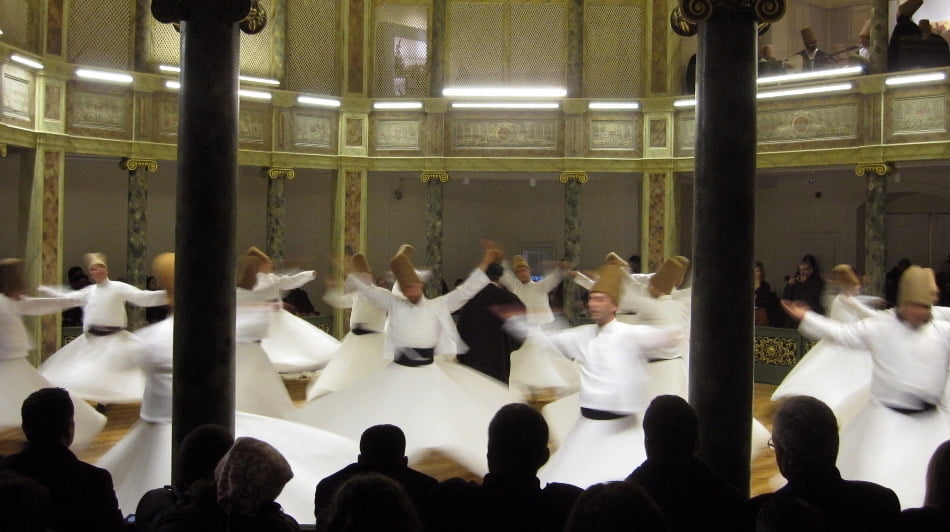 Useful information
To find out more about Istanbul Place Apartments, please visit their informative website that provides details of how to reach the apartments from Istanbul and Sabiha Gökçen airports, information about Galata and the surrounding areas, full details about each apartment and a facility to book your stay directly.
Website: Istanbul Place
Connect with Istanbul Place Apartments on social media for news and regular updates.
Facebook: Istanbul Place Apartments
Twitter: @istanbulplace
Instagram: istanbulplace
LinkedIn: Istanbul Place Apartment
Pinterest: Istanbul Place Apartments
Istanbul Place Apartments on Tripadvisor
Holder of the Traveller's Choice award, Istanbul Place Apartments is #1 of 540 apartments in Istanbul in Istanbul.
You can find more details and read guest reviews here.
This is a sponsored article in association with Istanbul Place Apartments.