"Nauryz, Navruz, Nawrouz, Nevruz, Nooruz, Novruz, Nowrouz, Nowruz – this celebration of the arrival of spring is as rich in names as it is in traditions. No matter what name you call it by, this shared festivity has brought communities together across countries and regions for more than 3,000 years" ~ Audrey Azoulay UNESCO Director-General
Nevruz, meaning "new day", is an ancestral festivity marking the first day of spring and the renewal of nature. It includes rituals, ceremonies and cultural events, as well as the enjoyment of a special meal with loved ones. New clothes are worn, visits are made to family and friends, and gifts, especially for children, are exchanged.
Celebrated for over 3000 years in the Balkans, the Black Sea Basin, the Caucasus, Central Asia, the Middle East and other regions, it promotes values of peace and solidarity between generations and within families as well as reconciliation and neighbourliness.
Thousands of people marked Nevruz with colourful rituals across Türkiye, especially in the southeastern and eastern parts.
Nevruz is marked as part of Kurdish, Iranian and Eurasia traditions in the second half of March as the first day of spring with colourful celebrations, however, this year's celebrations, which took place in various cities across the country, including Istanbul, the capital Ankara, the southeastern province of Diyarbakır and the eastern province of Van, were held under the shadow of the Feb. 6 major earthquake which claimed the lives of more than 50,000 people lost their lives.
In many cities in Iran, people also jumped over small bonfires with a belief of trying to purify themselves against evil and misery and celebrated the beginning of the New Year according to the country's official Solar Hijri calendar.
Similar festivities were also held in Kyrgyzstan, Turkmenistan, Kazakhstan and Uzbekistan.
Nevruz is officially registered on the UNESCO Intangible Cultural Heritage of Humanity List, and the United Nations General Assembly has also declared March 21 as "International Nevruz Day."
You can read more about the traditions of Nevruz here.
In Photos: Nevruz celebrations around the Turkic world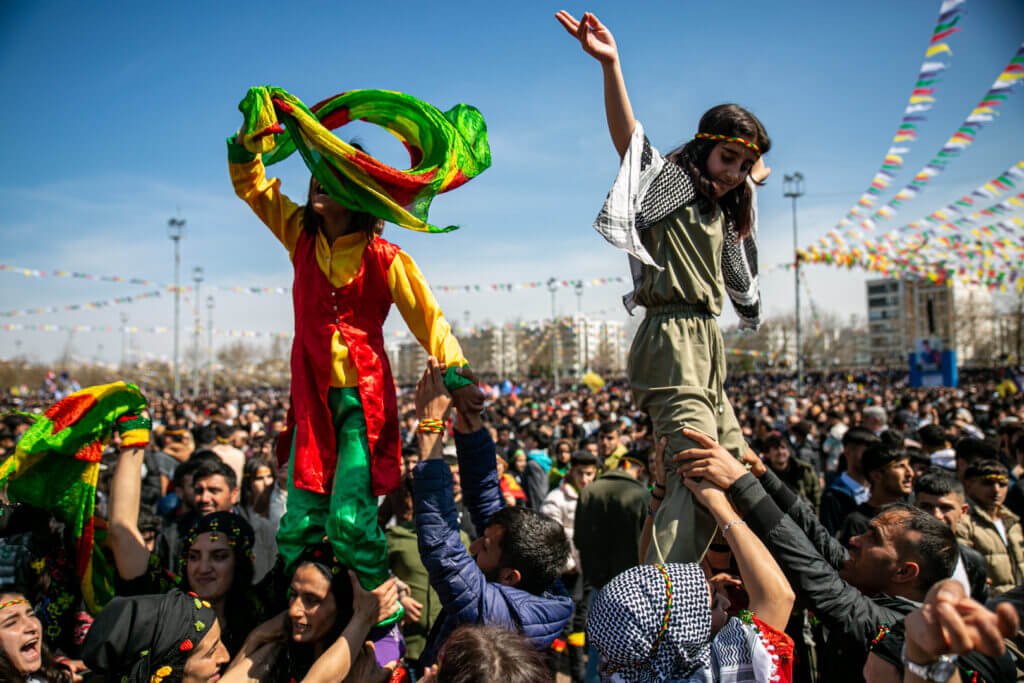 Sources: Hürriyet Daily News/A Turkish Minute/UNESCO/Facebook