This article was written for Fethiye Times by Steve Parsley.
It's a little unfair that when Üzümlü – or Yeşilüzümlü to give it its Sunday name – made the international headlines back in 2016 it was for all the wrong reasons.
Men from the village had become frustrated by the local young ladies' propensity for leaving the area before they'd had the chance to marry them.
Indeed, so bereft were they that they took to the streets waving banners in protest, even urging President Erdoğan to step in on their behalf.
With Mama Mia and its sequel still fresh in the minds of many, it was always going to be a story to delight any tabloid newspaper or gossip magazine. It was inevitable that the village would suddenly find itself in the glare of the international spotlight, if not in a film of its own.
But it would be hugely unfair if the plight of the local menfolk was all the community was remembered for. Despite its reputation as a sleepy backwater that only really comes alive for its annual mushroom and wine festivals, it has so much more to offer.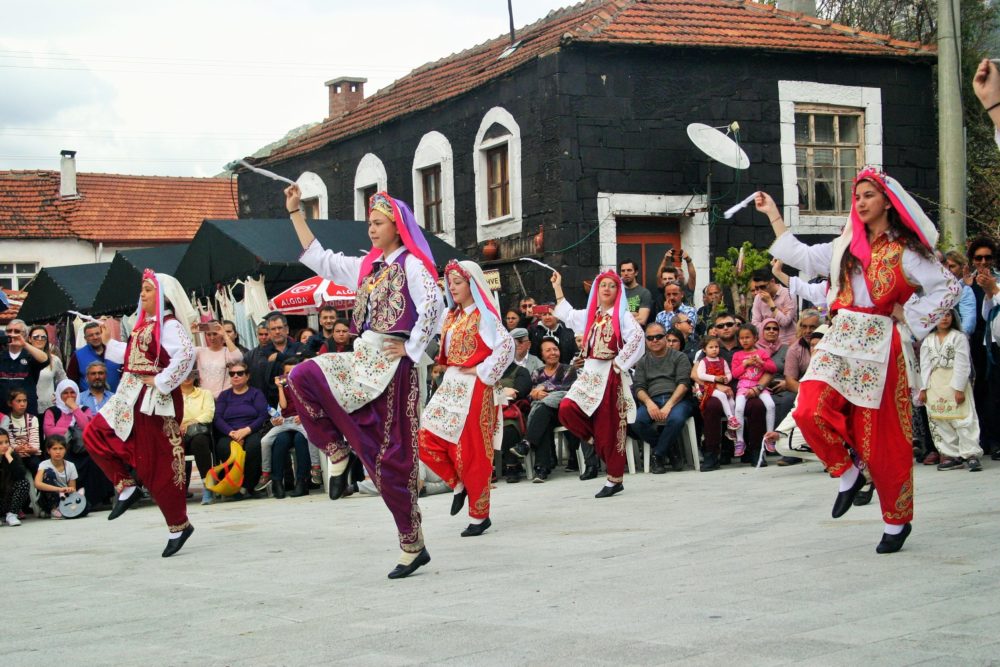 Traditional appeal
Accepted, if you were asked for a single word to sum up the village after driving the quaint streets around the small central square, "traditional" is likely to be among the most obvious.
Stone-built properties with wooden doors and balconies seem to lean towards each other over narrow alleyways. The history of the Ottoman Empire seems ingrained in the village's DNA.
But to suggest the community is still stuck there would be hugely unfair. Indeed, return to the same streets on a Saturday evening and you'll discover it definitely knows how to party. In fact, certainly in the summer months, you can probably find a live music event most nights.
Although many are tucked away in snickets and passageways, the village also boasts an impressive selection of restaurants and bars, each with its own distinct ambience.
If you want fine dining, there's a selection of kitchens producing Turkish delights as well as other dishes from around the globe, including Indian and Chinese. If you're in the mood for a burger or fish and chips, there are others ready to cater for your cravings. The tea rooms and cafes around the square also offer favourites such as gözleme, pide and menemen. The choice is yours.
There's a Friday market too which may be smaller than most but also manages to capture both the produce and heartbeat of authentic rural life. You'll find Turkish mamas selling fresh fruit and veg grown in their gardens shouting amiable conversations with farmers with larger stalls across the aisle.
There is usually a spice stall, others stocked with hardware, some more offering shoes and clothing, and even a pick-up truck loaded with tanks stocked with live trout. There are still a few things you may need to drive the 17kms to Fethiye for; however, if you combine the market with the offerings available in local shops, you could easily find yourself losing touch with the "big town" altogether.
Üzümlü has its own council offices, the equivalent of both a primary and secondary school, a community centre, a number of mosques, its own doctor's surgery and pharmacy, a Jandarma headquarters and a fire station.
Some may argue a proper supermarket, a reliable cash point and a post office open more often than occasionally would be the icing on the cake. Others like the village just the way it is.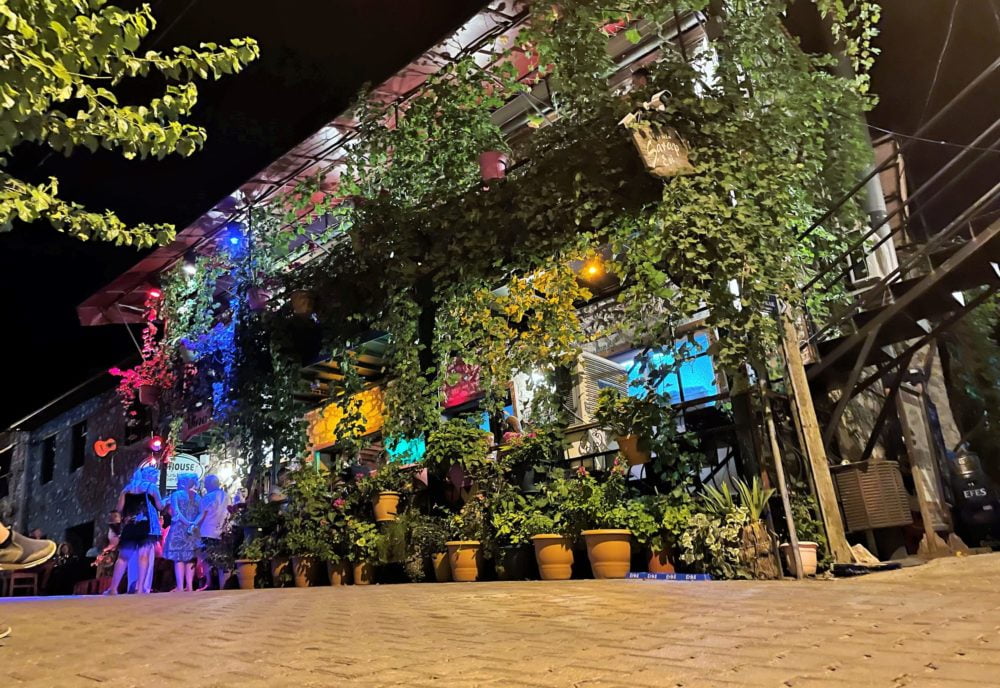 Natural attractions
But to focus entirely on the local economy and amenities would also do Üzümlü a disservice. Another aspect of life in the village is the natural environment which soon inveigles itself into most daily routines.
The village nestles in a fertile valley 484m (1,588ft) above sea level and is surrounded almost entirely by forested mountains. As the autumn festival and the village name imply (Yeşilüzümlü translates as "green grape" in English) vineyards do well here and local wines are plentiful. Orchards and arable crops such as oats and barley also thrive.
But the location means cooler temperatures in both summer and winter, the latter often punctuated by fierce storms which can lead to localised flooding and interruptions in power, phone and internet connections.
However, if you don't mind hills, there are numerous paths and tracks to explore including some a little higher up often coated in snow between December and March.
Follow one trail a few kilometres east of the village and you may also stumble across the ruins of Cadianda (Kadyanda) complete with what's left of a stadium, amphitheatre, baths and temples. The first signs of human settlement here are thought to date back as far as 3,000 BC with the city eventually abandoned by the Romans around the 7th Century AD.
Today, wandering around what remains can seem a little strange or even poignant. The community must once have been home to hundreds of people but all that's left now lies quietly in the middle of the forest, pine trees growing through the walls and foundations of tumbled buildings that stood strong for centuries.
Local opinion
And, if you were to ask locals for their reasons for choosing Üzümlü as their home, then there's a pretty good chance "community spirit" will feature among them.
Here's what a few had to say when we used the village's own Facebook forum to ask Üzümlü residents to name one thing which sums the place up for them:
Tina Kosuch: "Üzümlü is like yin and yang for me. The old style of life mixed in a balanced way with the modern. I would like to add if they keep selling and building land and houses they need to get the infrastructure as well like landline, internet, water, electricity, roads, and street lamps.
Fiona Redfearn-Pattison: "A beautiful, friendly village with a great choice of restaurants. Scenic and spacious."
Len Willis: "Cold in winter. Need good heating."
Rhian Robinson: "A village I defy anyone to visit and not fall in love with. Words I've used to describe the village: Welcoming, charming, beautiful, rustic – and random! It has this strange ability to allow locals and foreigners to live in harmony and it really knows how to party. Just look at our mushroom and music festivals. Love the place; it reminds me very much of Wales, our homeland, except with much more sun. The community? I've never known anything like it. Everyone pulling together to support a cause. The recent fire-watching is the most recent example."
Dave Badger: "Our home for three years! Friendly (mostly) ex-pats and Turkish mixing together! Nature and history in abundance. Twenty minutes to the beach and, in winter, 20 minutes to several metres of snow! Cooler in summer but can be harsh in winter! What's not to love?"
Dawn Akyurak: "It's like living in a bubble. If I go out of the village, there's a real sense of comfort and relief to get back. We love living here. My husband was born and raised here. It's a beautiful place with a great community."
Hugh McCarry: "Mostly sun, glorious green tranquillity and 20 minutes to the sea. A great place to grow old disgracefully. Certainly cosmopolitan; ex-pats and Turks abound. But it's mainly a Turkish village which retains many of the old ways which appealed to us immigrants in the first place."
Jennie Collins: "From an outsider's point of view, we had the pleasure of visiting friends living in Uzumlu a couple of years ago and were welcomed with open arms by the whole community, both ex-pats and locals. An absolutely stunning village, with beautiful scenery and with lots of lovely friendly bars and restaurants! Can't wait to visit again once this pandemic allows."
Rosie Simpson: "It's such a supportive and caring village. Whatever is requested on our forum is met with kindness and generosity. Thanks to this, many displaced families have been helped with all they need to set up home in Turkey. Animals and children are helped to have a better quality of life via the charities that have been set up to meet their needs. During the recent worries about forest fires, the whole community came together to fire-watch and check out suspicious smoke. In essence, we are a caring community that looks out for each other as well as helping those in need. Yeşiluzümlü is an awesome place to feel part of a close community."
Karen Cadman: "Our brief of where we wanted to live when moving to Turkey was a village with character and beauty. Whilst wanting an ex-pat community, we also wanted Turkish traditions. Here, the Turkish ladies can still be found weaving their lace whilst their men drink çay and play backgammon in the lokantas. Üzümlü wraps its arms around you like a caring parent when you arrive and hopes you never will leave."
But, just like anywhere else, the best way to discover what the village has to offer is to try it yourself. If you're in Fethiye, it's waiting only a short drive up the wide and well-made Çameli road, the heart of the village just 700m or so off the tree-lined dual carriageway of Durmuş Demirci Boulevard.
Winter, summer, day or night, it's the kind of place that most find offers something different or new every time you visit. Be careful though; it's also the kind of place you may find you don't want to leave.
This article was first published on 7 September 2021.