A special Easter bread, Paskalya Çöreği, that you can find all year round in bakeries in Istanbul...
Tsoureki is a Greek holiday bread that is made by Greeks during Easter, not only in Greece but also in other countries with Greek communities.
The Turkish name for this bread is Paskalya Çöreği (Paskalya is the Turkish word for Easter).
Istanbul has a long history of having some brilliant Armenian and Greek pastry masters and most of the prominent patisseries used to be run by them. Thanks to this heritage, Paskalya Çöreği became a staple of the Istanbul patisserie scene all year long.
The superb sweet aroma of mastic and the nutty aroma of mahlepi make this Easter bread not only delicious but also unique.
Thank you to Ozlem Warren of Ozlems Turkish Table for sharing her recipe for this delicious bread with us.
Easter bread with Mahlep; Paskalya Çöreği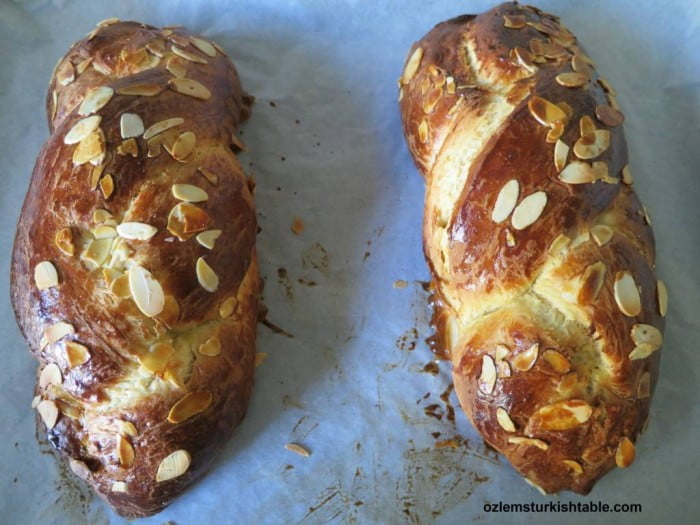 The star ingredient in this bread is Mahlep or mahlab, mahlebi, an aromatic spice made from the seeds of a species of cherry. It has been used for centuries in the Middle East as a flavouring for baked goods. In Greek cooking, it is the characteristic flavouring of Christmas cake and Easter pastry recipes. In Armenia, it is used to flavour traditional Easter bread. In Turkey, it is used for poğaca, (savoury pastries with cheese or various fillings), Kandil Simiti, special bread rings with sesame seeds to mark religious festivities. Mahlab is also used in Paskalya Çöreği, the special sweet bread that you can find all through the year in patisseries, pastanes, in Turkey (the word Paskalya is from the Greek Pashalia).
Ingredients
3 cups and 1 tbsp. all-purpose plain flour sifted
½ cup (caster) sugar
12 gr/ 1 ½ tsp. dry yeast
5 ml/ 1 tsp. sea salt
15 ml/ 3 tsp. ground mahlep or mahlepi
5 ml/ 1 tsp ground mastic
2 eggs, lightly beaten (room temperature)
2 egg yolks, lightly beaten (room temperature)
125 gr/ 1 stick unsalted butter, melted
½ cup whole milk, lukewarm
For the topping:
1 egg yolk, beaten
10 ml/ 2 tsp. whole milk
45 ml/ 3 tbsp. thinly sliced, flaked almonds
Instructions
Take the eggs out of the fridge about 1.5 hours ahead of time and bring them to room temperature.
If you are using whole mahlepi seeds, ground them in a food processor with the mastic.
In a large bowl, combine the dry ingredients; flour, sugar, yeast, salt, ground mahlepi and mastic. Mix well with a spoon.
Stir in the beaten eggs, egg yolks, melted butter and warm milk in the bowl. Using your hands (or an electric mixer) bring it to a soft dough.
On a lightly floured surface, knead for 3 -5 minutes, until you get a smooth dough.
Put the dough into a greased large bowl, cover it with cling film and wrap it with a kitchen towel. Place the bowl in a warm part of the kitchen. Let the dough rise and double its size; this takes about 2.5 hours, depending on the room temperature.
Once risen, punch the dough and divide it into six equal balls. Roll each ball into 30 cm (12") long 6 strips.
Place 3 dough strips next to each other side by side. Pinch and seal the top end of the 3 strips so they stay intact. Braid and seal the other end of the strips; you have made your first loaf. Repeat the same procedure with the rest of the 3 dough strips to make your 2nd loaf.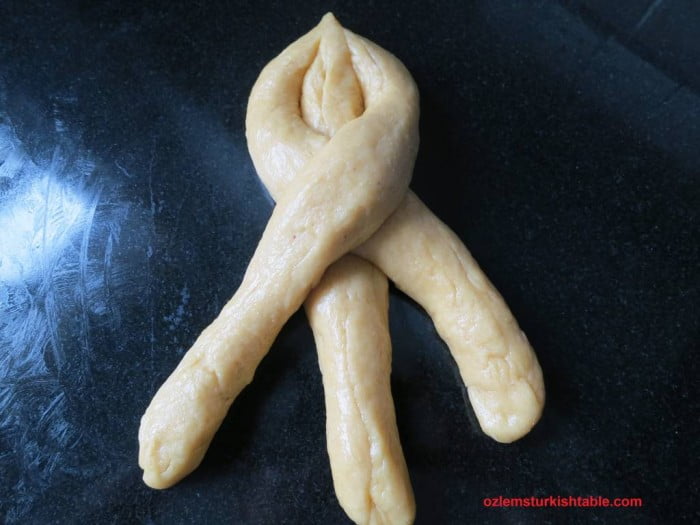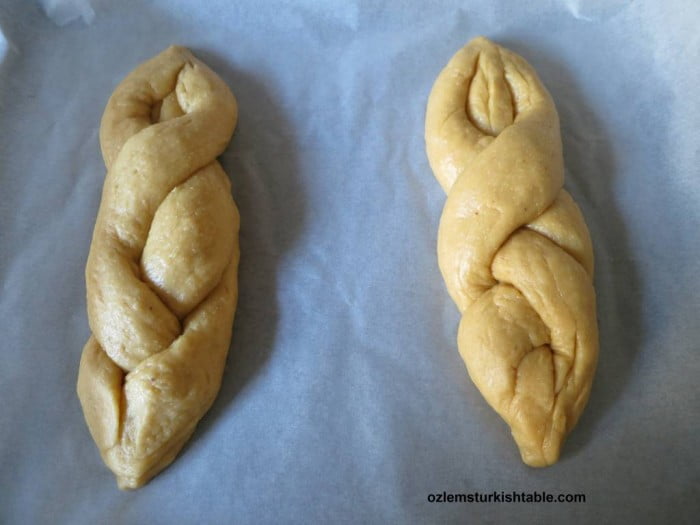 Cover the baking tray with parchment paper and place the two braided loaves on it; make sure to leave 3 -4″ between the loaves. Cover the loaves loosely with a damp towel. Place the tray in a warm place to rise for another hour.
Preheat the oven to 180 C / 350 F
Beat 1 egg yolk lightly in a small bowl and stir in 2 tsp. whole milk, mix well.
Once the loaves have risen, brush them with the egg yolk and milk mixture. Generously sprinkle the flaked almonds over the loaves and gently press so that the almonds stick to the loaf.
Bake in the preheated oven for about 20 – 25 minutes. Check after 15 minutes, as the loaves go dark rather quickly. If that is the case, loosely place a sheet of oven-proof baking paper over it to prevent further browning. After 20 minutes, take the loaves out of the oven and insert a toothpick in the middle to see if cooked. If the toothpick comes away clean, that means the loaf is cooked. If not, bake for a further 5 minutes or so.
Once cooked, remove from the oven and let the bread rest on a wire rack. It will smell heavenly.
Slice the loaf when cool; Paskalya Çöreği is delicious with butter and jam or honey.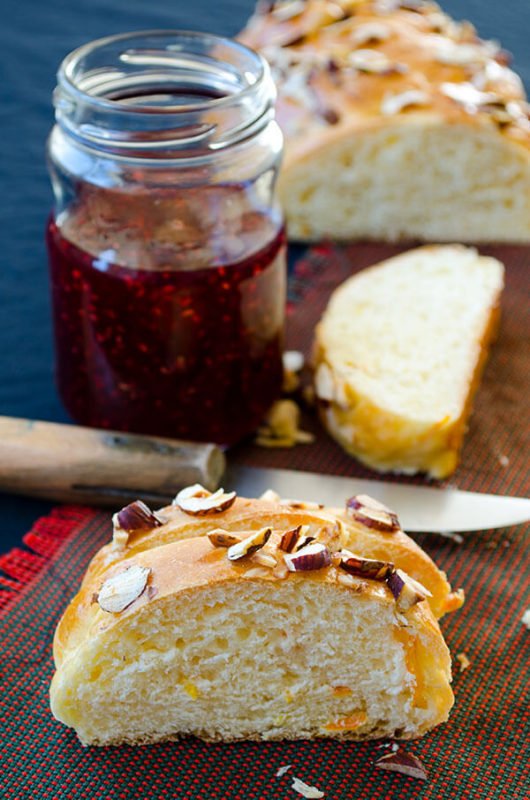 Afiyet olsun and Happy Easter
Ozlem is passionate about the sweet and savoury pastries in Turkish cuisine and has a whole chapter on Savoury Pastries in her book. Ozlem's Turkish Table: Recipes from My Homeland. Signed copies are available to order at this link.