This post contains affiliate links, so we may earn a small commission when you make a purchase through links on our site at no additional cost to you.
Have you booked your flight and accommodation? Now you need to think about getting from the airport to your destination…
In this article, we explain most of the ways you can get from Dalaman Airport to Ölüdeniz, Fethiye, Marmaris, Kalkan and beyond.
If you are going on holiday to Fethiye, Ölüdeniz, Marmaris, Dalyan, Kalkan, Kaş or any other popular southern Turkish resort you are likely to arrive at Dalaman International Airport.
Dalaman International Airport has no rail links. All transport to and from the airport is by road.
So if you are on a DIY holiday, have arrived by no-frills airline, package holiday or visiting friends and family under your own steam your options to get to and from the airport are as follows:
Dalaman Airport Car Hire
You can hire a car at the airport or pre-book from one of the many companies represented on the internet. Prices vary depending on the time of the year and the type of vehicle you want.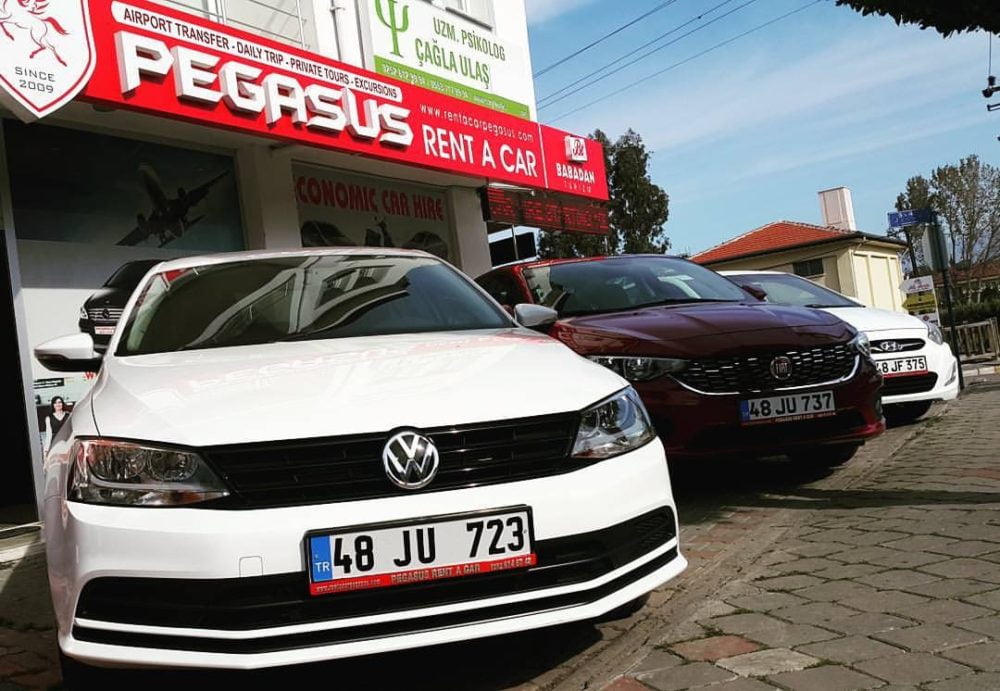 Car hire is convenient and one of the quickest ways to get to your holiday destination and is good value for four people travelling.
Many of the hire companies will pick you up from the airport and drop you at your accommodation if you ask in advance (Dalaman only) which saves stress if you are driving in Turkey for the first time, are tired after a long journey or have had a drink on the flight.
However, always check with the company that they are able to collect you at the airport as restrictions operate from time to time.
Most companies operate on an empty-to-empty fuel tank system. So when you pick up your vehicle the first task you will have will be to fill it up with fuel.
There is a fuel station a couple of km outside the airport on the exit road so that is the first and easiest place to fill up.
All fuel stations in Turkey are attended so just say the attendant 'full' and they will know what you want, most speak the essential English words.
Payment can be made by cash or international credit/debit card with chip and pin.
Travelling to Fethiye, Ölüdeniz, Çalış, Kalkan, Kaş or beyond
IMPORTANT – If you are travelling to Göcek, Fethiye, Ölüdeniz, Kalkan or other resorts to the south you will need to drive through the Göcek Tunnel. Make sure you have some Turkish Lira to pay the toll each way.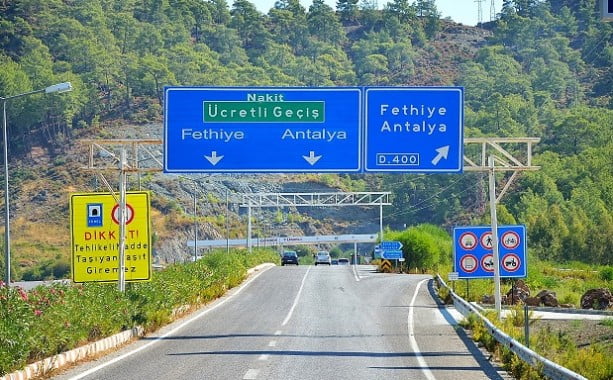 Dalaman Airport Taxi (or Taksi in Turkish)
Official Yellow taxis operate to and from the international terminal.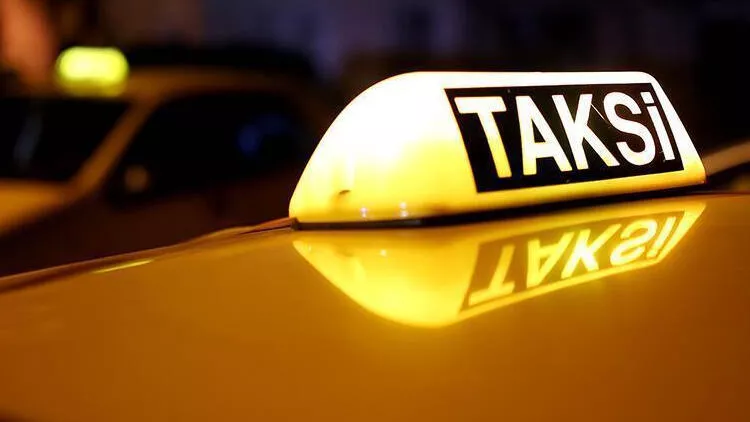 Fares do vary depending on the exact location of your resort so always ask and agree on a price upfront before departing.
Dalaman Airport Fly Transfer
The next option is the fly transfer.
Some airlines offer a transfer on one of their package tour coaches when you book a 'flight only'. This option is a bit limited as the service only goes to the main resorts/hotels.
If your place is off the beaten track you might need to take a taxi to take you to your final destination.
Dalaman Airport Private Transfer
Many companies operate private transfers to and from the airport but these MUST be pre-booked.
Welcome Pickups
"We selected one of the best, most trustworthy and convenient 5-star airport taxi companies for your airport transfer based on user reviews across various platforms such as Google, Tripadvisor and Trustpilot. Welcome Pickups offers a great experience and safety to its travelers.
– Local English-speaking drivers
– Flat, pre-paid fee
– Flight monitoring for delays
– 24/7 Customer support "
Private Transfer Tips
It is very important to check that the transfer company you are booking with is a fully licenced operator. If the company you use doesn't have the correct credentials they may be refused entry to the airport and you'll be left stranded.
Fixed Price and Extras – Check too that the price is not a fixed one based on x persons sharing, has hidden extras or will only drop off in a central location rather than at your hotel or villa rental.
Reliability – There is nothing more stressful than waiting around for a transfer that is late or does not turn up especially on your homeward leg when you have a flight to catch. So, search the internet for reliability reports for your transfer company.
Be Prepared – Get hold of a 24-hour contact so you can talk to someone if your transfer is late, and arrange a backup so you don't miss your flight.
As with the taxi tips above always take detailed directions or a map with you to guide the driver.
Dalaman Airport Public Transport – The Muttaş
A bus runs between Dalaman Airport and Fethiye every day.
The timetable varies depending on the season.
The liveried buses are easy to spot.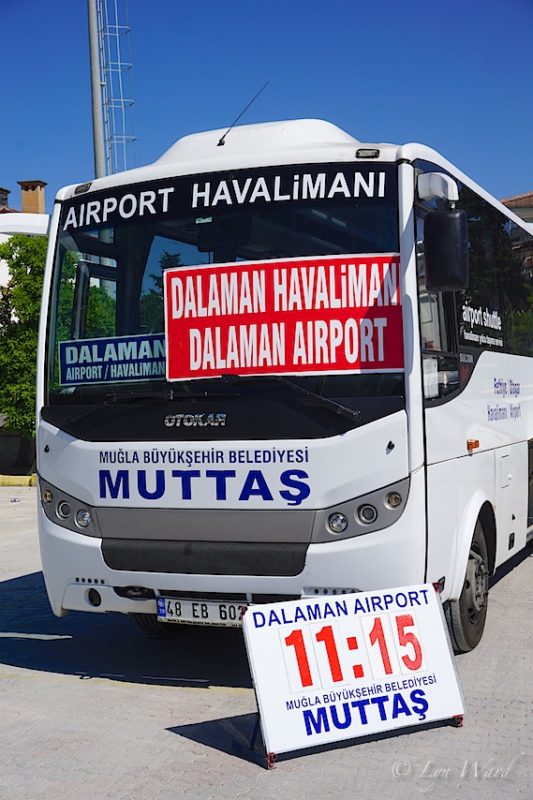 Dalaman Airport Other Bus Service – The Havaş
The official airport bus for passengers of Turkish Airlines (THY) and other domestic flights is run by Havaş.
Anyone can use their service. The bus departures are timed with the arrival of domestic flights. There are flights more or less throughout the day so it is pretty good coverage in the summer season. The service runs all year.
Be warned you may also have a long waiting time if you arrive outside normal times.
Click here for the Havaş bus timetable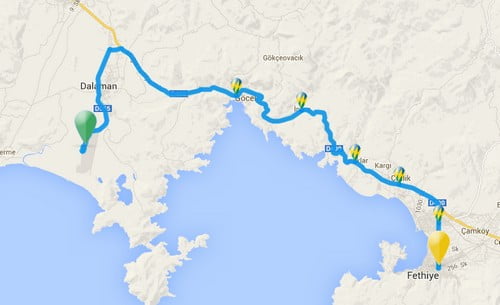 The driver will drop you anywhere along the bus route but will not deviate from it.
So this option is fine if travelling into the towns but a further bus (dolmuş) or taxi would be required to get to out-lying resorts.
Dalaman Airport Taxi / Bus
Public buses do not operate from the airport. The nearest bus station (Otogar in Turkish) is on the main road outside of Dalaman town and is a 15-minute taxi ride away. From the bus station, you can catch one of the regular buses to Fethiye and other destinations.
Ask the taxi driver for the Otogar and then take a bus to Fethiye – a 60-minute journey or Marmaris around one and a half hours depending on the driver.
Make sure the taxi driver puts the meter on or negotiates the fee.
Dalaman bus station
At the Dalaman bus station, which is on the outer edge of town not in the centre, get a tea and wait for the next bus to Fethiye.
They come through 24 hours a day. There is nearly always tea and food available at the bus station but grab something en-route just to be safe.
The bus takes about 45 minutes to Fethiye bus station and the views en route are wonderful during the day.
If you are going out to the airport just reverse the journey. Buses leave Fethiye Otogar for Dalaman and beyond, 24 hours a day.
You can buy your ticket in advance and, once you get out at Dalaman Otogar, there will always be a taxi to take you to the airport.
Have a safe trip!
This article was first published on 9 June 2017.