On 6 February 2023, at 04:17 TRT (01:17 UTC), a magnitude 7.8 earthquake struck southern and central Türkiye and northern and western Syria. The epicentre was 32 km (20 mi) west–northwest of Gaziantep. At 13:24, there was a second magnitude 7.7 earthquake centred 95 km (59 mi) to the north-northeast from the first, in Kahramanmaraş Province. There was widespread damage and tens of thousands of fatalities.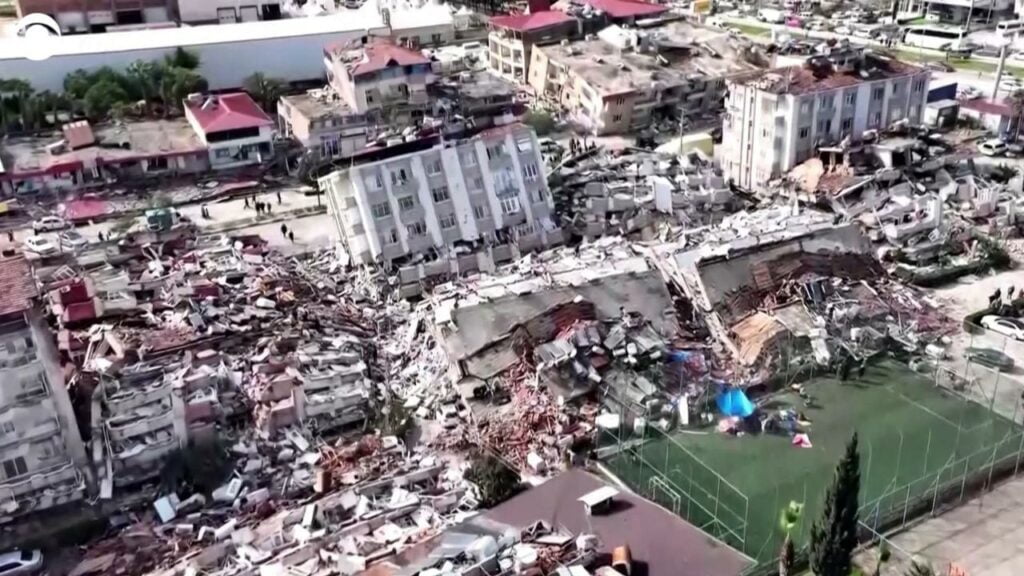 The magnitude  7.8 earthquake was the strongest to occur in Türkiye since the 1939 Erzincan earthquake of the same magnitude, causing widespread damage in an area of about 350,000 km2 (140,000 sq mi) (around 12 times the size of Belgium).
As of 4 March 2023, more than 52,700 deaths were confirmed: more than 45,900 in Türkiye, more than 6,700 in Syria, and more than 108,000 have been injured.
It is the deadliest earthquake in Türkiye since the 526 Antioch earthquake and the deadliest in Syria since the 1822 Aleppo earthquake. It is the deadliest natural disaster in Türkiye's modern history.
An estimated 14 million people, or 16 percent of Türkiye's population, were affected. and an estimated 1.5 million people were left homeless. – Source: Wikipedia
Why this happened here
This area of Türkiye is prone to earthquakes as it lies at the intersection of three of the tectonic plates that make up the Earth's crust: the Anatolian, Arabian and African plates. Arabia is moving northwards into Europe, causing the Anatolian plate (which Türkiye sits on) to be pushed out westwards.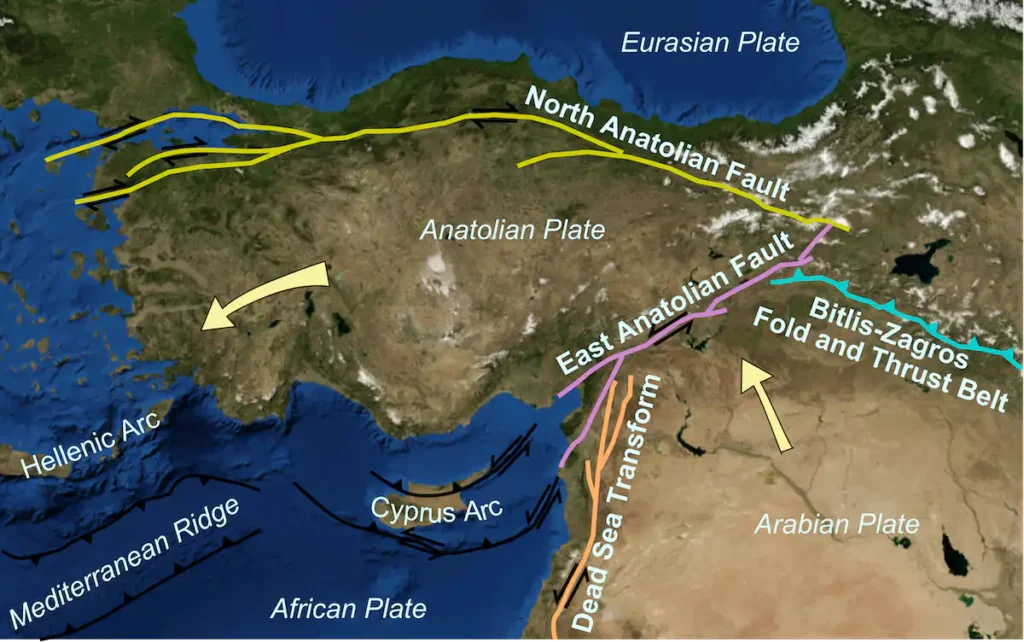 The movement of the tectonic plates builds up pressure on fault zones at their boundaries. It is the sudden release of this pressure that causes earthquakes and ground shaking.
You can read more here: Turkey-Syria earthquakes: a seismologist explains what has happened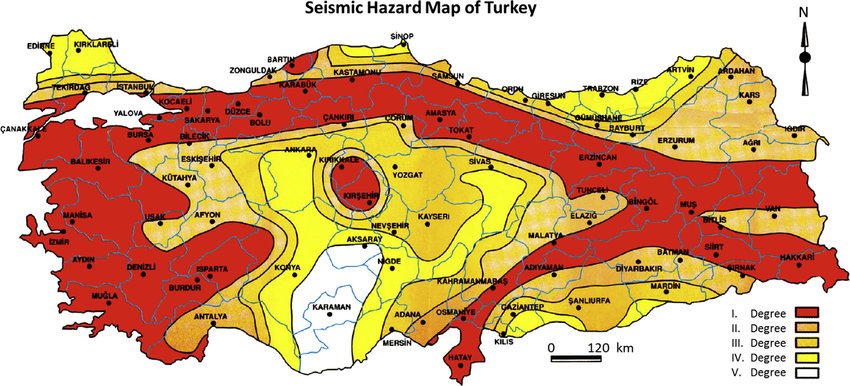 Fethiye, a small coastal town-population 3,000
Fethiye was a small coastal town in 1957 with a population of around 3,000. This quiet world abruptly changed on the evening of 24 April 1957 when, following a series of earth tremors, residents were told to leave their homes and not return.
As a result, when a 6.2 quake hit the town at 21:17 followed by a 7.1 quake at 04:28 on 25th April, there was far less loss of life than would have otherwise resulted. The earthquake destroyed many buildings, but as a result of the foresight of Fethiye's governor, Kamil Nezih Okuş, only 19 people were killed.
The following photographs were taken by the official photographer from HMS Dainty, a British Royal Navy D-Class destroyer which arrived from its base in Cyprus three days after the quake, bringing tents, blankets, water purification tablets and medical supplies.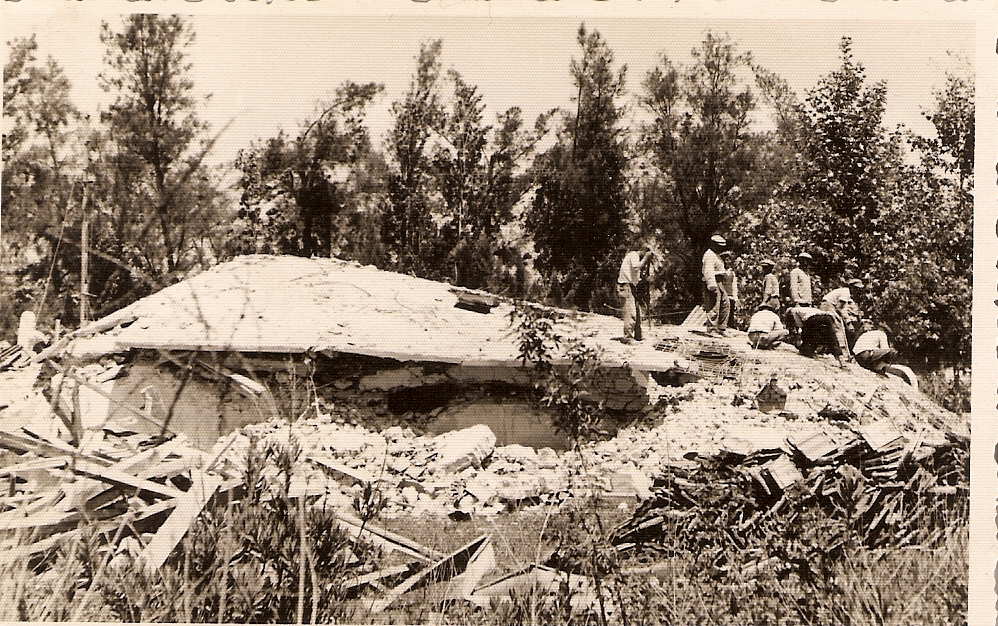 Fethiye municipality uses the collection of photographs from time to time as part of an informative programme to reinforce the importance of being prepared, should there be another earthquake.
AKUT – be prepared for earthquakes
In 1995, an unsuccessful search for two university students lost in the Bolkar mountains prompted a small group of professional mountaineers to establish AKUT Search and Rescue Association (Turkish: AKUT Arama Kurtarma Derneği).  Realising the earthquake risk in Türkiye, they completed additional training and are now a pivotal player in raising awareness in preparation for emergencies. All members of the AKUT team are volunteers; the Turkish government officially declared AKUT as an "NGO working for public benefit" in 1999. 
AKUT gained classification by the United Nations International Search and Rescue Advisory Group in 2011 and is one of only three organisations in Turkey that has INSARAG classification.
An earthquake can happen at any time and usually comes without warning. By preparing yourself and your family before an earthquake happens, you can minimize the risk of injury and damage to your home.
AKUT: What to do before an earthquake
Make sure that the building where you live or work has been inspected to ensure that it meets the appropriate building standards.
Make sure that your property and personal items are insured against any loss, resulting from an earthquake.
Identify safe places in your household, children's school, workplace and any other location where you frequently spend time.
Identify a safe meeting point with your family should you be separated when an earthquake occurs. This could be the local school gymnasium or a basketball court in your local neighbourhood.
Make an emergency plan, which includes the meeting points, and have a regular "drill", so you all know what you need to do if an emergency occurs.
Make sure that you know how to switch off your utilities. They should be switched off in this order – gas, electricity, and water. However, if there is any smell of gas, do not touch the electrical supply and leave the property promptly.
Make sure that you secure any items that may topple over. This includes objects such as tall bookcases or cabinets and gas bottles. Don't hang heavy pictures or mirrors above the bed.
Make sure that any chemicals are adequately stored.
Prepare an emergency bag. This should include the following items:
Must-Have Items
Drinking water
Non-perishable food
First aid kit
Advised
A radio
A torch
Spare batteries
Battery charging pack
Cash
A notebook and pen
A whistle
Important documents, such as insurance papers and title deeds
Passport or ID
A phone book, containing important numbers
Personal Items
A blanket
Any prescribed medication, such as blood pressure medication or insulin
Baby food, feeding bottle, nappies
Any other personal items that are needed by you or your family
Keep a pair of footwear, a torch and your mobile phone by your bed.
You can reach all emergency services by dialling 112
Other resources
Thank you to Greg Geilman of RE/MAX Estate Properties in Los Angeles, California for sharing the following resource with us.
Be Prepared: Household Earthquake Safety Tips and Helpful Home Modifications to Consider