This post contains affiliate links, so we may earn a small commission when you make a purchase through links on our site at no additional cost to you.
This article was written for Fethiye Times by Mike Vickers
For most of us, moving house is a nightmare of stress and exasperation, so just imagine what it's like moving an entire airport. That was the challenge facing Turkish Airlines when their new home was opened by President Erdoğan last October.
As it turned out, the move from the old Atatürk Airport was a logistical masterpiece, involving thousands of journeys between the two airports. Fleets of trucks shuttled back and forth, ferrying 50,000 tons of equipment between them and covering 400,000 km in the process – all completed well within a tight 45-hour time window in early April. In addition, 146 Turkish Airlines aircraft also made the short transfer over from Atatürk, and after much arranging of furniture and plugging in of computers, all was ready and their maiden flight departed on the 6th April, destination Ankara.
Having little faith in the reliability of budget airlines, my wife and now fly to and from the UK with Turkish Airlines. Flying scheduled is great – it often turns out to be not all that more expensive and the meals are free! The only downside is that at the moment, the only way to reach Dalaman is via Istanbul, and earlier this year we had the unusual experience of flying into the old Atatürk Airport in March (spectacular views over the Bosphorus, Golden Horn, Hagia Sophia, the Walls of Constantinople – you know, the whole big, fabulous, wonderful chocolate-covered biscuit), but then leaving Turkey in May via the new Istanbul Airport. The difference between the two is – well, significant.
The statistics are truly impressive. More than 660,000 trees were cut down and 1,850,000 moved to allow construction to begin. Four runways are currently in use, with four more planned for completion by 2027 (yes, a total of eight runways!), leading to an eventual capacity of 200 million passengers a year. The terminal building is 1.4 million square metres in size, the largest in the world under a single roof. To give you an idea, this building is already significantly bigger in area than the Vatican City, and once the airport is fully developed, the terminal building will have an eventual size of 3.2 million square metres, or about 1.5 times larger than the entire City State of Monaco. Make no mistake, this is an impressive place, a home fit for an airline with ambition. Turkish Airlines are now prioritizing routes into Africa, using Istanbul as the hub for the entire continent. Travellers wanting to fly on to Europe and the USA turn left at Istanbul, those wanting to go to China, Japan and the Far East turn right. This is a big game they're playing and we found the airport full of people wearing bright and colourful national costumes from all over the continent.
So, what's it like to navigate?
The first thing we noticed was the length of time it took to taxi to the vast terminal. Admittedly, we'd landed on the furthest of the four runways, but even so, it took a full 8 minutes to reach the terminal gate. That doesn't sound particularly long, but a plane taxis at approximately 35 kph, so the distance covered was about 4 kilometres. This is a seriously big airport.
On reaching the terminal, the signage is clear and easy to follow. All signs are in both Turkish and English. Perfect! We headed to International Transfers, as should all who are flying back to the UK, passed through a spacious passport control hall with satisfyingly short queues and straight into the departure lounge.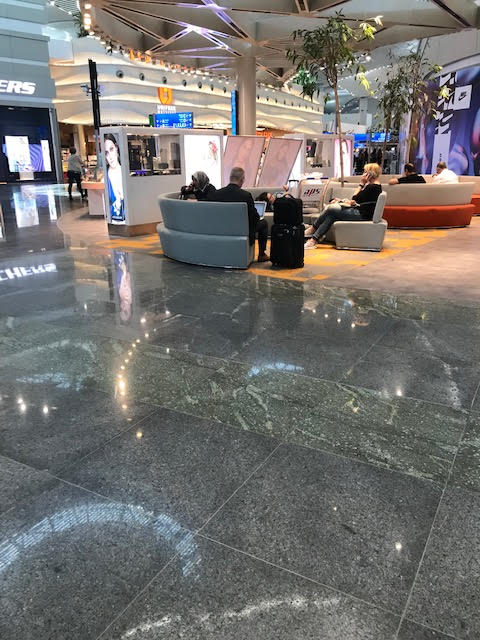 Now I've been inside some big buildings in my time but without doubt this is the largest. It's cavernous, with a light and airy cathedral-like vaulted ceiling high above stretching away into the distance. The only way I could estimate its length was by measuring the building using Google Earth, and came up with approximately 1000 metres, give or take. That's an impressive building by any standards – oh, and by the way, the whole huge space is air-conditioned.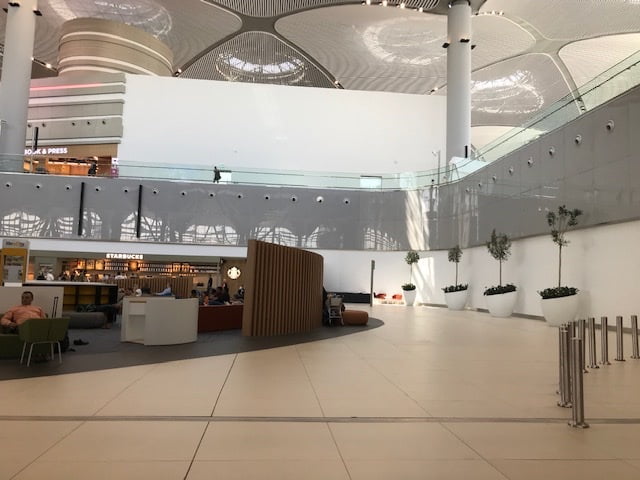 One of the reasons why it's so big is to house the shops. The place is like an exclusive shopping mall and there are more than enough enticing stores to occupy your attention and worry your wallet as you wait for your flight, but don't get too distracted – it can take some time to actually reach your departure gate.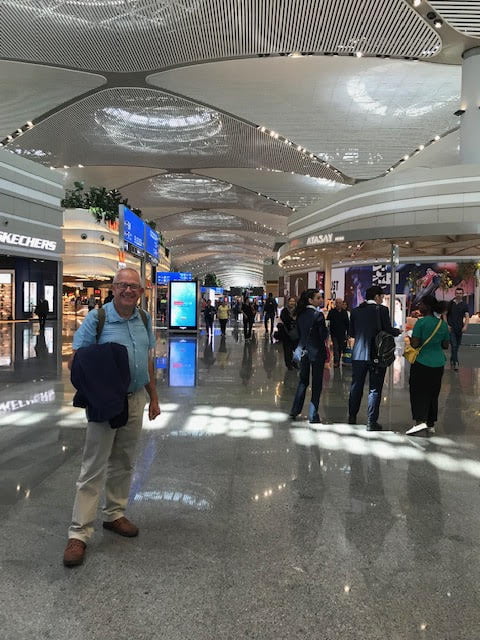 Despite the temptation, we both tend not to shop at airports so left the departure lounge in search of our gate, stopping for a very reasonably-priced coffee on the way.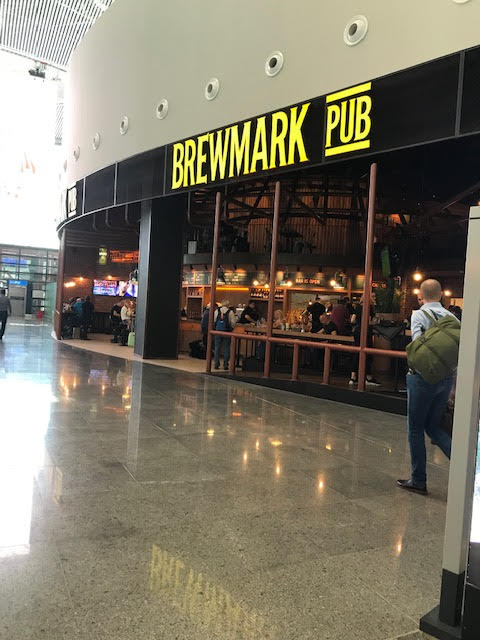 As it inevitably turned out, our gate was just about as far as could be from the departure lounge, but at least that gave us the chance to experience the enormity of the place as we drifted along the moving walkways.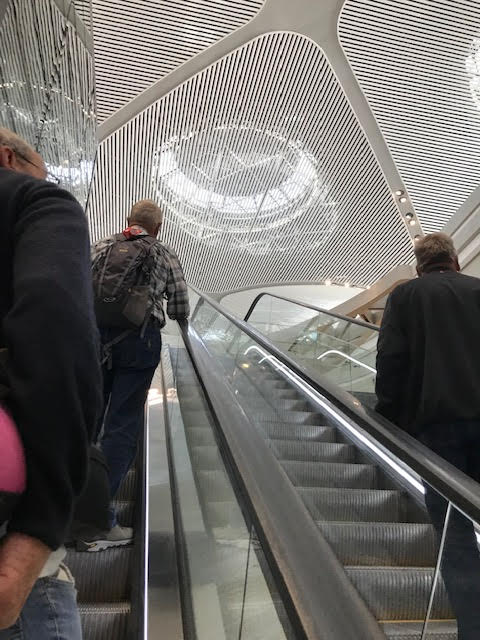 Once at the gate, matters proceeded as they do in airports all over the globe and four hours later we landed at Heathrow. Frankly, it felt like a shed!
If a country really wishes to impress its international visitors, the most obvious way is through its primary international airport, and in this matter, the Turks have excelled. This is world-class.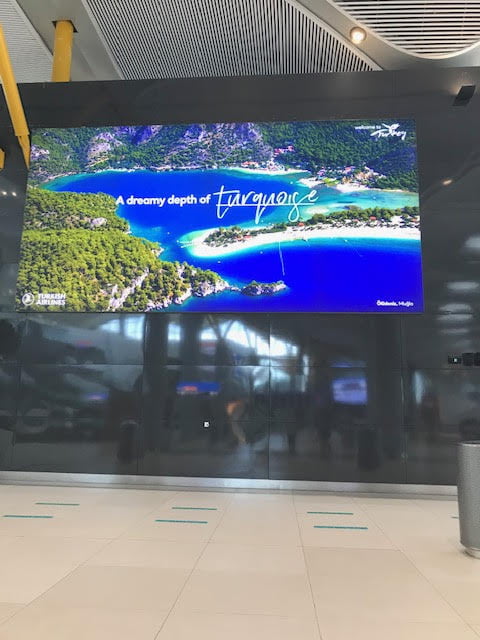 Things to think about
If catching a transfer flight, leave yourself plenty of time to get to your gate – it's a huge place! Jan and I must have walked the thick end of two kilometres from our arrival gate to the Domestic Transfer Desk, then through the departure lounge and out to our departure gate. It's Exhaaauuusting, Dahling!
Wear comfortable shoes!!!! See above.
Demand an appropriate refund from Turkish Airlines – they only carry you 99% of the distance to Dalaman. The other 1% you've already walked…
Welcome to Istanbul – welcome to Turkey.
This article was first published on 6 August 2019.