A small church with a big vision…
Fethiye celebrated the official opening of Fethiye Halk Kilisesi Derneği (Fethiye Community Church) last month.
The very well-attended opening was led by the church pastor, David Teylor and started with a welcome and ribbon-cutting ceremony.
Welcome & Cutting of Ribbon
"On behalf of Fethiye Halk Kilisesi Derneği we would like to welcome our friends, family, & neighbours here today to the opening of our new building.
We are honoured to have you here among us as we cut the ribbon and open the doors. We feel incredibly thankful for the unique opportunity to serve and live alongside you in this beautiful city of Fethiye. We want to thank both the city and the community for allowing us this great privilege. Our hope is that the opening of this building will be a blessing to all those who visit for a holiday, reside as a local, or chose to call our beloved Fethiye home."
After the ribbon-cutting ceremony, people were invited into the church where David gave a talk on the history of the building and clarified their mission.
Quick history & clarification of mission
"The Christian community in Fethiye is not new, in fact, here is one of the walls of what used to be an active church a 100-plus years ago.
We have been living together, Christians, Muslims, and everything in between, in peace, for years.
This is not new, what is new, is a public place for us to freely worship. I pray that in the years to come, we as a community can show our children something new, something different than the wars of our fathers, to show them unity and diversity, respect and love, freedom and conviction. Thank you for allowing us the privilege of not only being your neighbour but also your friend"
"We as a Dernek desire to serve the existing Christian community throughout the city of Fethiye by providing a place of worship and encouragement of faith. Our services and doors are open to all and we hope to be able to answer any questions you may have. Finally, we desire to partner with you in serving the community of Fethiye for the glory of God and the good of the city."
Guests were then invited to have a look around the building which is made up of three sections – the meeting room, the garden and the cafe, to ask questions and enjoy something to eat and drink.
Sunday services are held every week between 11:00-12:30.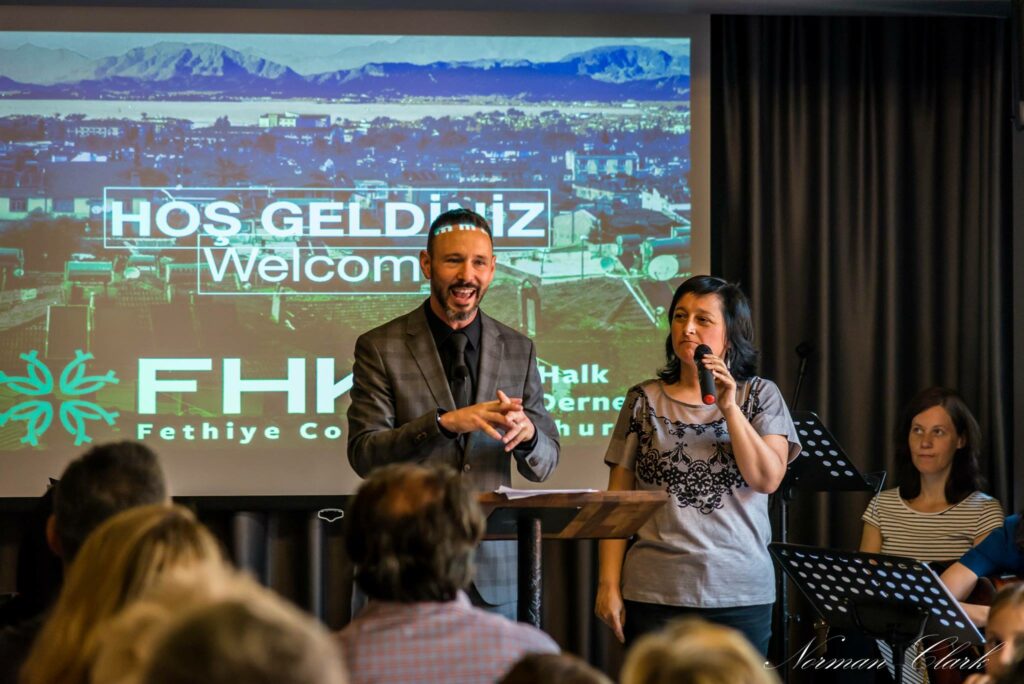 Click here for more information about FHK
Thank you to Norman Clark for sharing his photographs with us.
This article was first published on 17 May 2018