It's autumn! Pumpkins are ripe and plentiful … and Halloween is just around the corner.
The history of the Jack-o-Lantern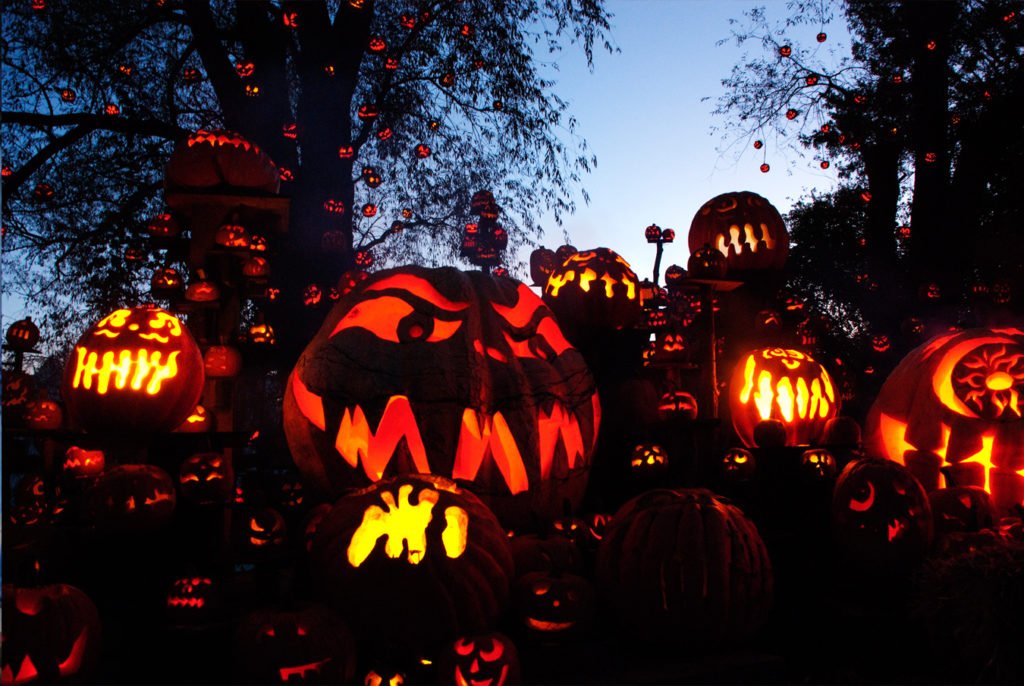 People have been making Jack-o-Lanterns at Halloween for centuries. The practice originated from an Irish myth about a man nicknamed "Stingy Jack." According to the story, Stingy Jack invited the Devil to have a drink with him. True to his name, Stingy Jack didn't want to pay for his drink, so he convinced the Devil to turn himself into a coin that Jack could use to buy their drinks. Once the Devil did so, Jack decided to keep the money and put it into his pocket next to a silver cross, which prevented the Devil from changing back into his original form. Jack eventually freed the Devil, under the condition that he would not bother Jack for one year and that, should Jack die, he would not claim his soul. The next year, Jack again tricked the Devil into climbing into a tree to pick a piece of fruit. While he was up in the tree, Jack carved a sign of the cross into the tree's bark so that the Devil could not come down until the Devil promised Jack not to bother him for ten more years.
Soon after, Jack died. As the legend goes, God would not allow such an unsavoury figure into heaven. The Devil, upset by the trick Jack had played on him and keeping his word not to claim his soul, would not allow Jack into hell. He sent Jack off into the dark night with only a burning coal to light his way. Jack put the coal into a carved-out turnip and has been roaming the Earth with it ever since. The Irish began to refer to this ghostly figure as "Jack of the Lantern," and then, simply "Jack O'Lantern."
In Ireland and Scotland, people began to make their own versions of Jack's lanterns by carving scary faces into turnips or potatoes and placing them into windows or near doors to frighten away Stingy Jack and other wandering evil spirits. In England, large beets are used. Immigrants from these countries brought the jack o'lantern tradition with them when they came to the United States. They soon found that pumpkins, a fruit native to America, make perfect jack o'lanterns.
Source: University of Illinois
Whilst we may think of pumpkins primarily as Jack-o-Lanterns, there are many delicious recipes for the flesh – that bit many people throw away when pumpkin carving!
With Halloween just around the corner, here are a few recipes for you to try for yourselves.
Candied Pumpkin Dessert with Walnuts (Kabak Tatlısı)
This lovely light dessert is wonderful served with crushed walnuts. In Turkey, it is also served with thick cream (kaymak). If you can't get kaymak, clotted cream also complements this dessert well. You can also add a few cloves or cinnamon sticks to the juice before baking if you'd like to spice up this dessert.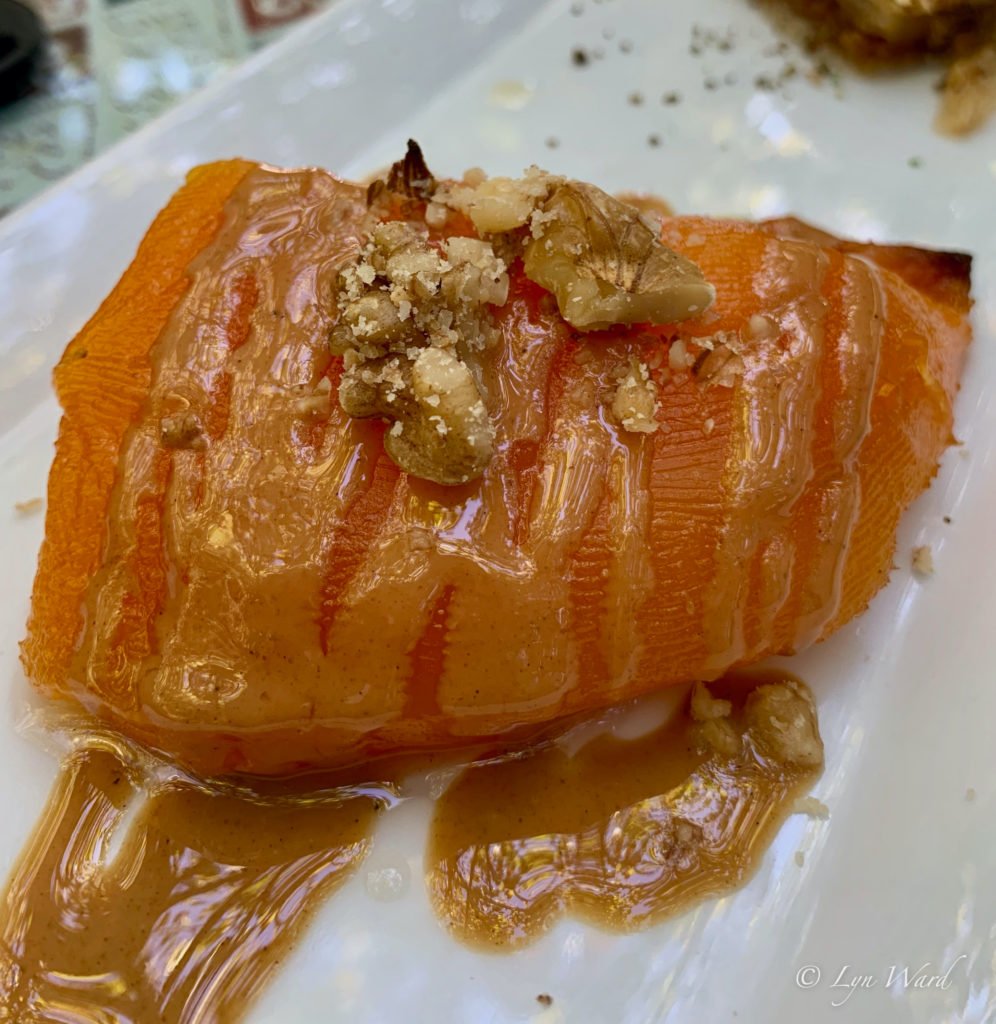 Click on the link below for the recipe from Özlem's Turkish Table
Candied Pumpkin Dessert with Walnuts (Kabak Tatlısı)
Many recipes call for pumpkin purée so here's a recipe.
Pumpkin purée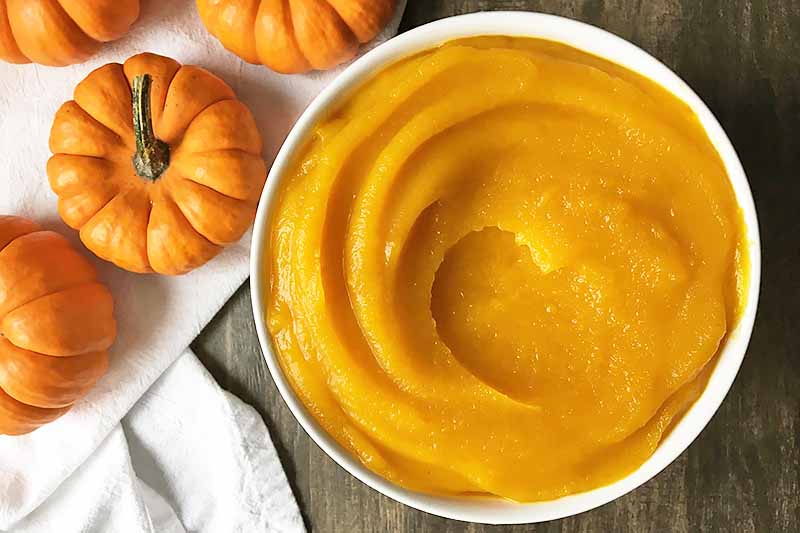 Ingredients
750g pumpkin (or butternut squash)
Method
To steam the pumpkin, peel and seed it, then cut it into evenly sized cubes. Put the cubes in a steamer or colander set over a pan of simmering water and cook for 10 mins. Test with the point of a knife and cook for a further 5 mins if not cooked through. Mash and leave to cool. Alternatively, to microwave the pumpkin, cut it in half (no need to peel it or cut out the seeds) and sit cut-side up in the microwave. Cook for 20 mins, then check the flesh is soft by poking it with a fork. Keep cooking if you'd like it softer. Scoop the flesh into a bowl, then mash and leave to cool.
Choosing your pumpkins
Different varieties of pumpkin make different purée textures and flavours, so while you can use any pumpkin for purée, they'll give different results. You can also try using different varieties of winter squash: butternut squash has orange flesh, a very dense texture and a sweet flavour, while kabocha (Japanese squash) has yellow flesh, an earthier flavour and turn fudgy once cooked. The orange pumpkins you see everywhere at Halloween usually don't have much flavour and can have watery flesh.
Recipe courtesy of BBC Good Food
Savoury Pumpkin Hummus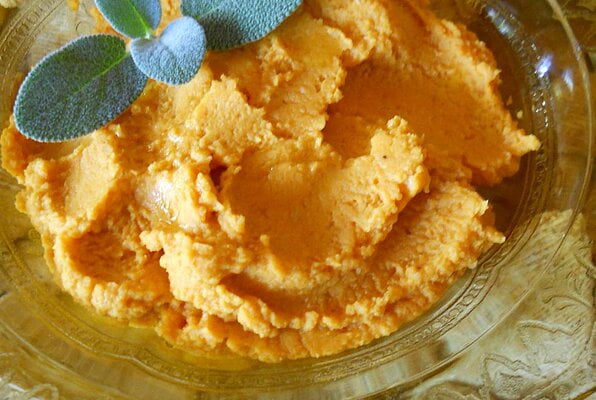 Ingredients
2 tablespoons lemon juice
2 tablespoons tahini
3 cloves garlic
¾ teaspoon salt
900g chickpeas (boiled or canned)
2 teaspoons extra-virgin olive oil
425g pumpkin puree
1 teaspoon ground cumin
½ teaspoon cayenne pepper
¼ cup toasted pumpkin seed kernels, or more to taste
1 pinch paprika
Method
Pulse lemon juice, tahini, garlic, and salt together in a food processor or blender until smooth. Add chickpeas and olive oil and pulse until smooth. Add pumpkin, cumin, and cayenne pepper; process until well blended. Transfer hummus to a container with a lid and refrigerate for at least 2 hours.
Fold pumpkin seeds into hummus; garnish with paprika.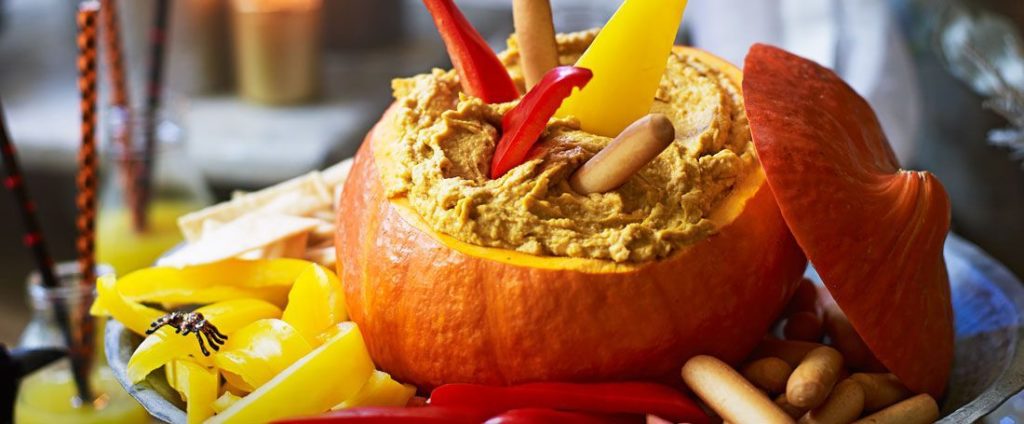 Recipe courtesy of All Recipes
Pumpkin Spice Protein Smoothie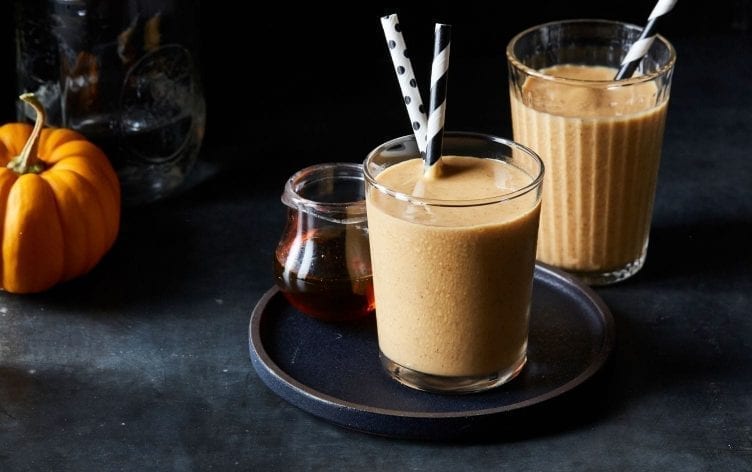 Ingredients
5 1/3 ounces (150g) 0% plain Greek yoghurt
1/2 cup (122g) canned pumpkin
1/2 large frozen banana
1 teaspoon pumpkin spice blend
1 tablespoon maple syrup (or honey)
1 scoop protein powder
1/2 cup (240ml) ice cubes
Method
Place all the ingredients in the blender, in order. Blend, starting on a low speed and quickly shifting to high. Blend until smooth.
Serve immediately.
Serves: 1 | Serving Size: 1 glass
Recipe courtesy of My Fitness Pal Recipes
Frozen pumpkin cheesecake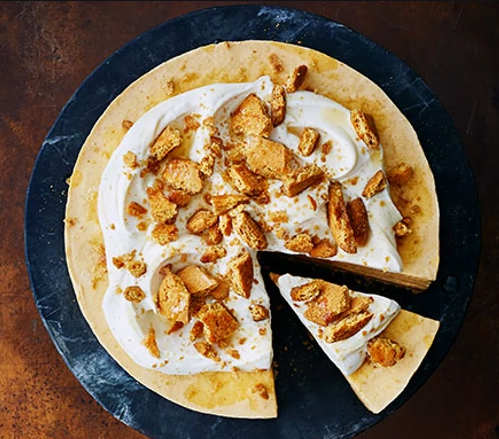 This no-bake, make-ahead cheesecake is perfect for Halloween or Bonfire Night, or as an autumn dessert for the dinner table.
Ingredients
300g gingernut biscuits
350ml maple syrup (or honey), plus extra to serve
350g full-fat cream cheese
300g pumpkin purée
300ml double cream
Method
Blitz 250g of the biscuits in a food processor with 125 ml of the syrup (or honey) until it resembles fine crumbs. Line a 20cm tin with baking parchment, then firmly push the crumbs into the base, transfer to the fridge and chill for 30 mins.
Beat 100ml of the syrup (or honey) with the cheese and pumpkin until smooth. Whip 200ml of the cream with 100ml of the syrup to soft peaks. Fold into the cream cheese mixture, then spoon over the base and level the top. Cover and freeze overnight.
Lightly whip the remaining cream with the remaining syrup (or honey) and dollop over the cheesecake. Crumble over the remaining biscuits and drizzle over some extra syrup. Leave to rest for 5 mins before serving.
Recipe courtesy of BBC Good Food
Health benefits of pumpkin
As well as tasting delicious, pumpkins are nutritious and linked to many health benefits.
Click on the link below to read an informative article from Healthline:
9 impressive nutrition and health benefits of pumpkin.
Afiyet olsun and Happy Halloween