Menemen (men-EH-men) is a traditional Turkish dish of eggs, tomato, green peppers, and spices such as ground black pepper, red pepper flakes and salt. This light, scrambled dish is perfect for breakfast or a light lunch.
Ingredients
Serves 4
8 eggs
2 green peppers, cut into small chunks
4 large ripe tomatoes, peeled and chopped into small chunks (save the juice)
1 tablespoon butter
Salt and pepper to taste
1 teaspoon hot red pepper flakes (optional)
Method
Melt the butter in a large skillet or heavy frying pan
Saute the peppers until lightly brown. Add tomatoes (with juice) and red pepper flakes (optional) and stir to combine.
Bring the mixture to a boil, then cover, reduce the heat and simmer gently until the peppers and tomatoes are soft, letting some of the juice evaporate.
Beat the eggs in a bowl and add salt and pepper.
Pour into the pan and stir gently making sure the egg mixture is cooked. (Take care not to overcook as your menemen should be fully cooked but still juicy.)
Sprinkle with hot pepper flakes (optional) and serve immediately with crusty bread.
To add a traditional touch, cook and serve your menemen in a Turkish copper skillet called a sahan.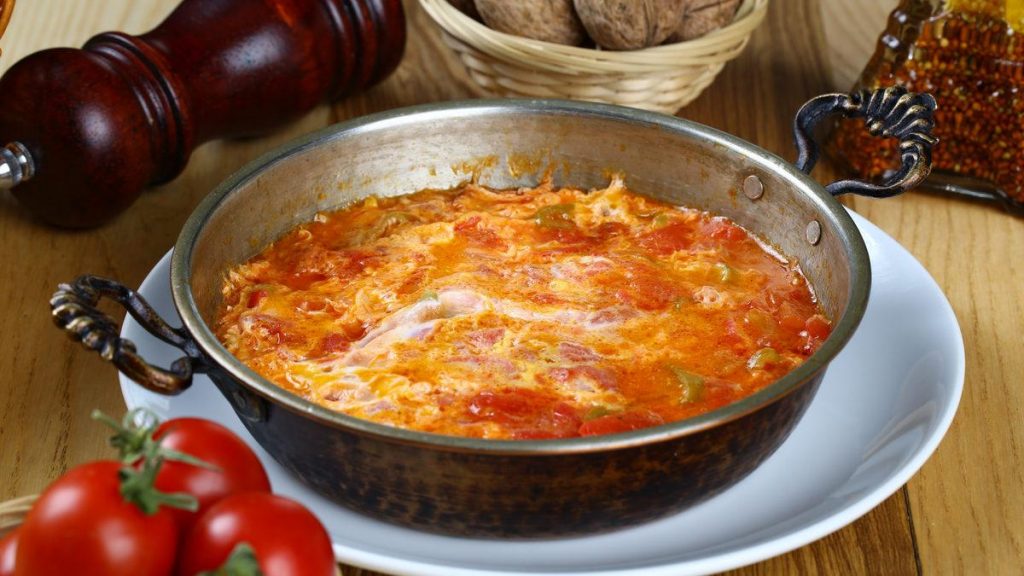 Serve with fresh crusty bread.
Afiyet Olsun!