The ultimate aubergine recipe…
This delicious smoky dip is the ultimate aubergine recipe and a classic part of any meze selection.
The principal ingredients are aubergines, garlic, lemon juice, tahini and olive oil. Scooped up with warm flatbread, this is perfect outdoor or picnic food.
Smoked Aubergine Puree (Baba Ghanoush)
Ingredients
3 large aubergines
2 cloves of garlic, crushed
Juice of a small lemon
2 tbsp tahini (sesame seed paste)
3 tbsp chopped mint or flat-leaf parsley
3 tbsps extra virgin olive oil
1 pinch pul biber (paprika)
Method
Peirce the skins of the aubergines and blacken them over a gas hob or barbecue. Turn them constantly until they are completely charred and the flesh is very soft. Allow cooling.
Slit the aubergines lengthways and scrape out the flesh, discarding the skins. Put in a sieve and leave to drain for 30 minutes, or squeeze out if you're in a hurry.
In a serving bowl, mix the lemon juice into the tahini. Add the garlic and two-thirds of the chopped herbs. Season to taste.
Mash the aubergines gently with a fork, and then stir into the tahini mixture.
Trickle the surface with olive oil and top with the remaining herbs.
Sprinkle with pul biber (paprika)
Serve with warm flatbread and raw sliced or whole vegetables (crudites).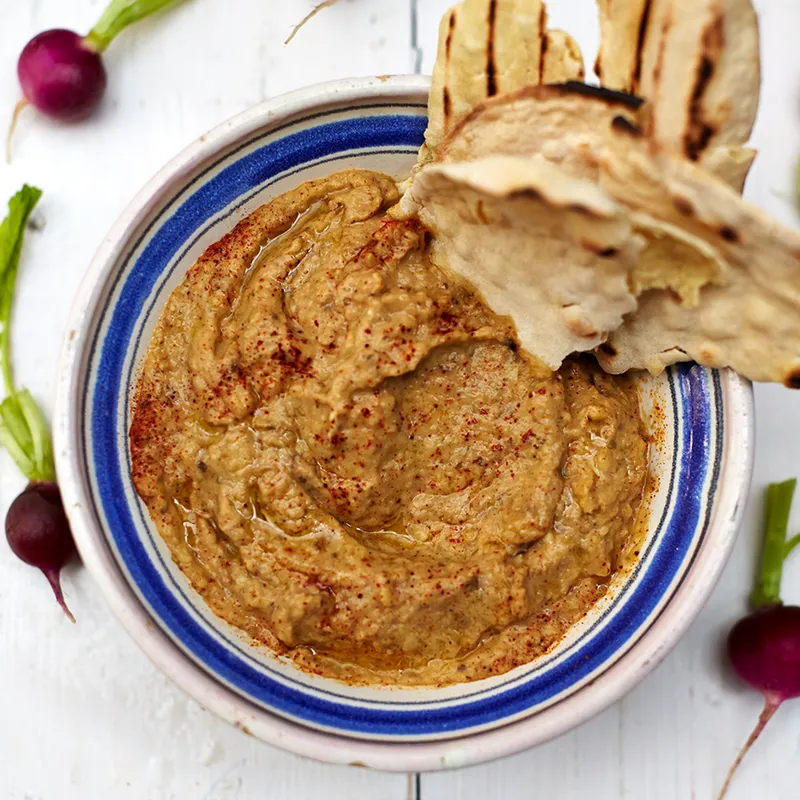 Afiyet olsun!