Tesbih, a small string of prayer beads that are carried around by many Turkish men, is one of the most common sights in Türkiye. Used as a sign of faith as well as an accessory, these small beads are the embodiment of centuries-old craftsmanship.
When you visit Türkiye you are certain to notice that the men always seem to have a string of beads in their hands.
They come in different lengths and colours, some are plain and simple in design and some are more lavish and expensive looking. The one thing they have in common is they appear to be an extension of the hand of those who hold them. But what are they?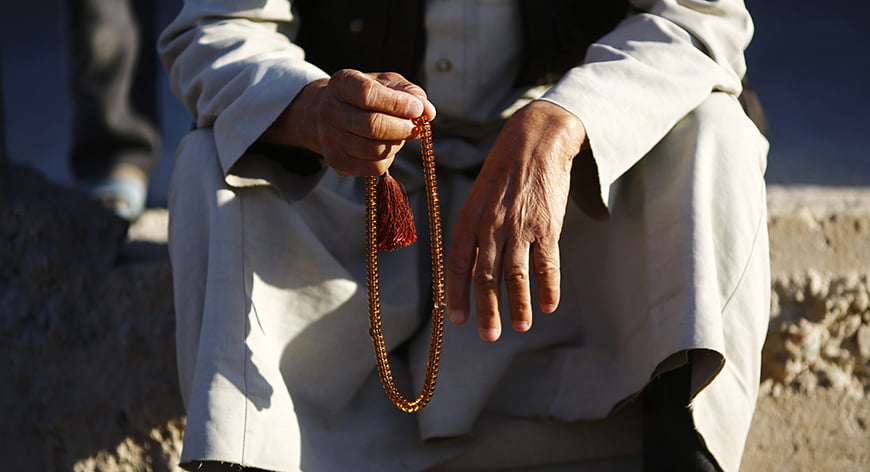 Tesbih – Islamic prayer beads.
Many religions including Islam, Christianity, Judaism, Buddhism and Sikhism have traditions of prayer beads, from "mala" for Buddhists to rosaries for Catholics.
In Islam, the "Tesbih", "Tasbih" or "Misbaha" are used to mark repetitions of prayers or other ritual recitations.
Muslims generally use tesbih with 99 beads, which symbolize the 99 names of Allah, while Buddhists' mala has 108 beads.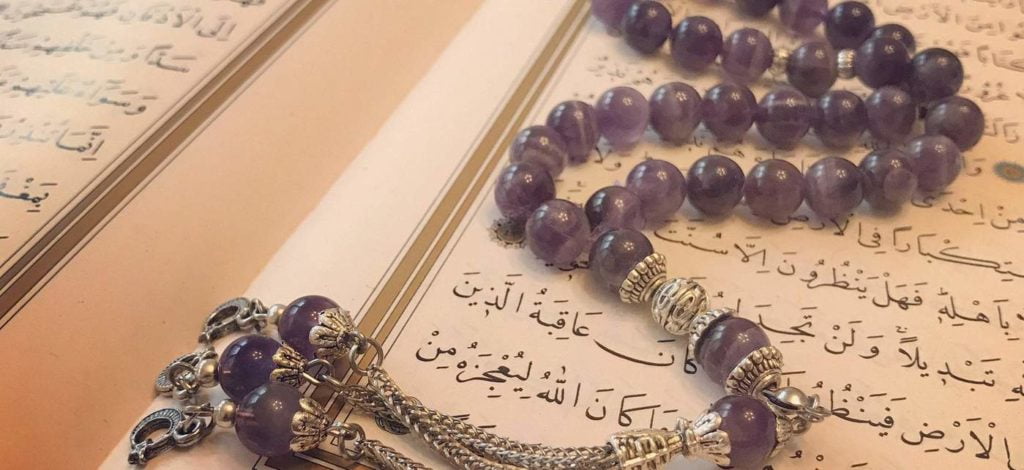 The Tasbih of Fatima is a prayer offered as a gift by the Prophet Muhammad to his daughter Fatima, which is recited as follows: 34 times "Allahu Akbar" (God is the greatest), 33 times "Al-hamdu lilah" (Praise be to God), and 33 times "Subhan Allah" (Glory be to God). This prayer is recited after the daily 5 ritual prayers.
Muslims place their finger and thumb over each bead as they count. If they are using a smaller, nowadays more common, tesbih with 33 beads, they are counted three times over.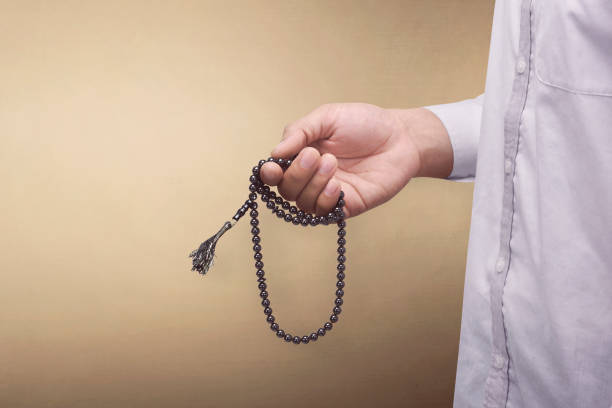 Companions that relieve stress
Tesbih, also known as worry beads, are also often used to relieve stress. The way you let the beads slip through your fingers has a rhythmic yet calming effect.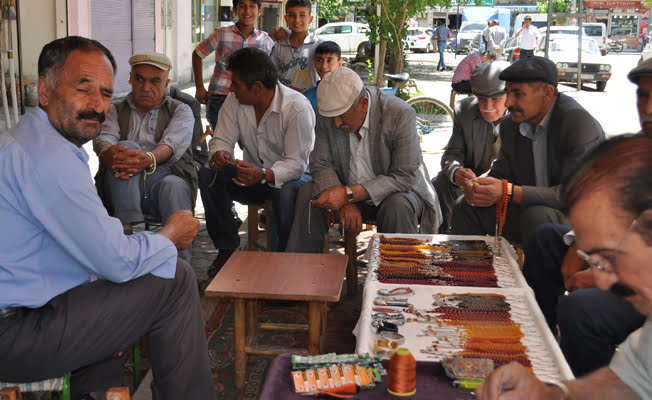 Materials used to make prayer beads vary. They can be crafted from wood, bone, amber, gold, silver or many kinds of precious stones.
According to craftsmen, amber, which is fossilized tree resin, is one of the preferred materials as some believe it has healing properties and people warm to its orange colour and soft surface.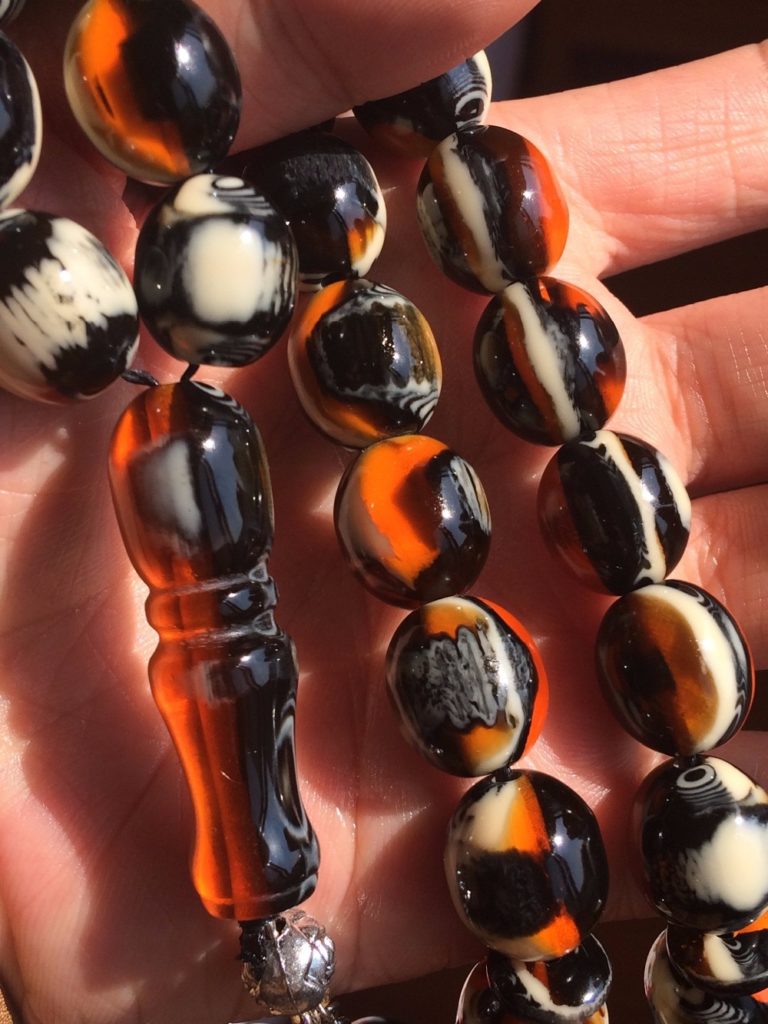 If users want to relieve stress, it is recommended to use a "tesbih" made of ebony. Beads made of agarwood are also popular because of their pleasant aroma.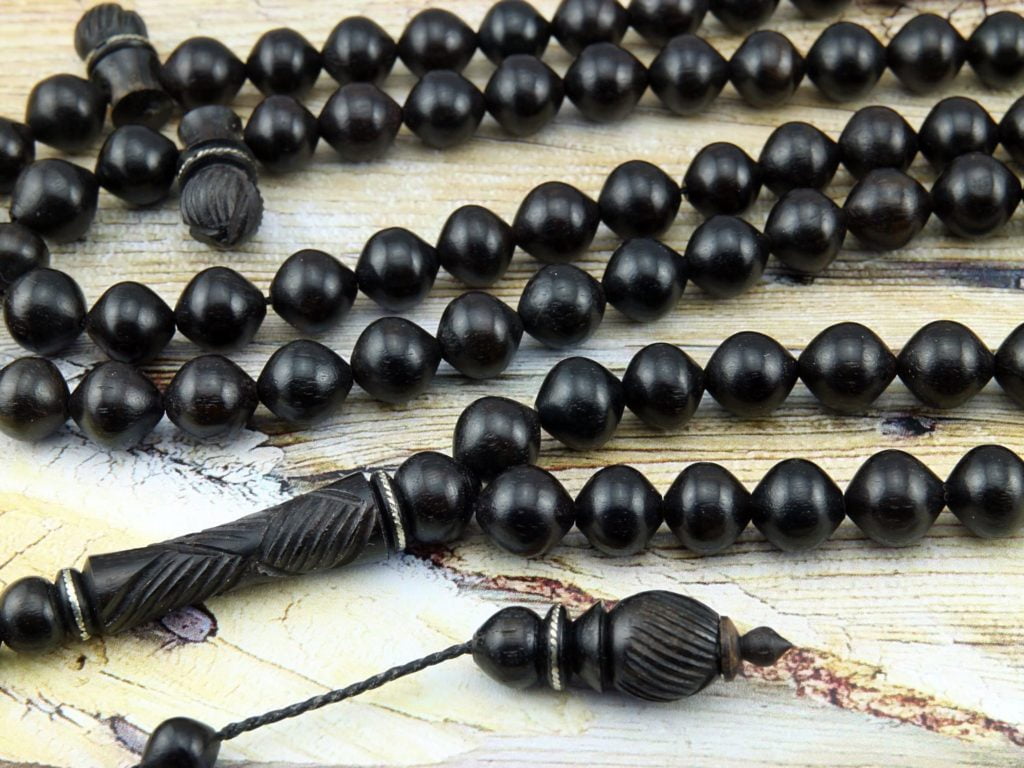 How Tesbih are made
Tesbih beads are made using a small lathe, simple but capable of the extremely fine adjustments required for such tiny objects. These lathes are generally made by the craftsmen themselves.
Each piece of the chosen material is first pierced and then cut into the desired shape: spherical, pyriform, oval, flattened spheres, or faceted.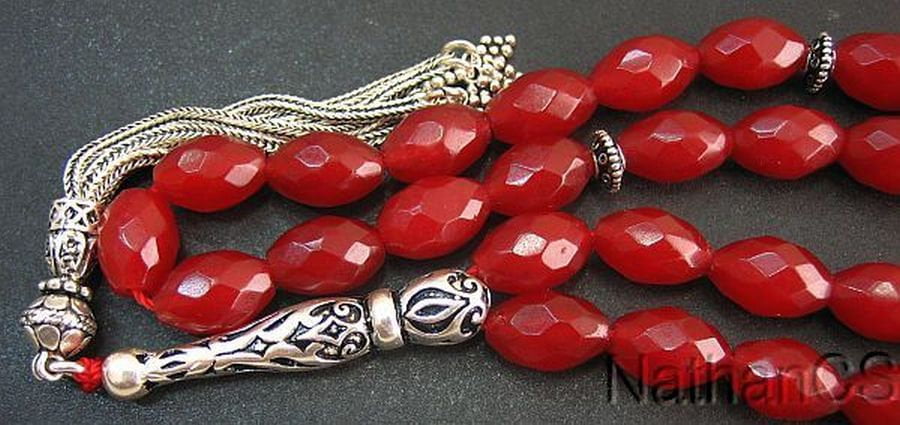 For a 99-bead tesbih the craftsmen make 110-120 beads, and then choose those that match best, saving the remainder for making 33-bead tesbihs.
Drilling the holes through them is one of the most difficult parts, the finer the hole, the more skill is required.
Then he makes the other parts: the nisane, a disc that marks every 33 beads, the pul, a tiny bead marking the seventh position, the imame, which is a long piece marking the beginning of the string, and the tepelik at the extremity of the imame.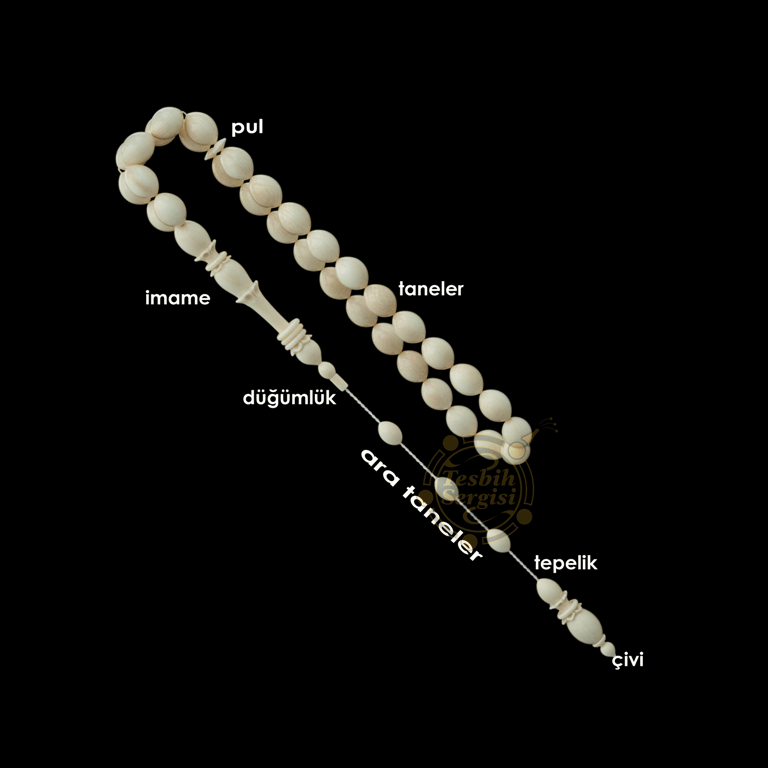 A small socket is gouged in the imame to conceal the knot of the string. All these pieces must also match.
Although the best tesbih have beads of equal size, some have beads graduated in size, threaded from largest to smallest. In the past, they were always strung on silk thread, but today nylon thread dyed to the correct colour is sometimes used instead.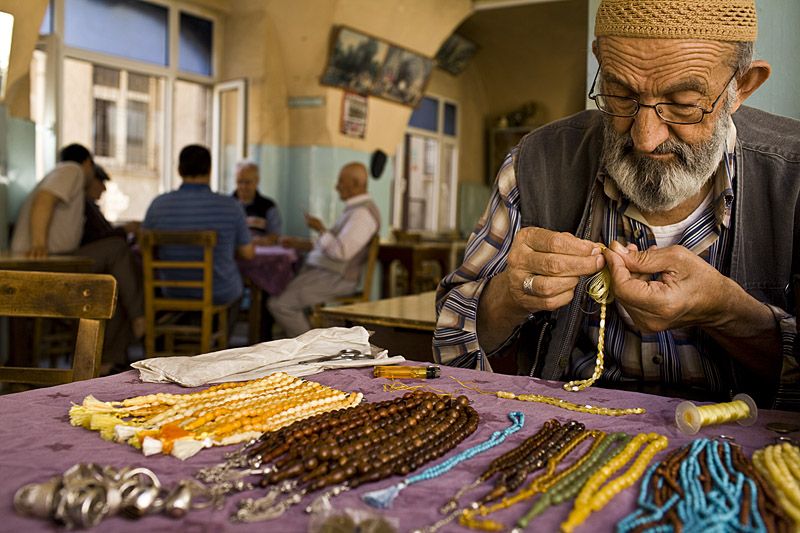 Finally, the beads may be fitted with bands, engraved with inscriptions, and otherwise decorated, before being strung together, and a tassel attached.
To complete one hand-made tesbih takes at least three days. It may take months to finish some models.
Tesbih craftsmen will tell you that during this process, their psychology or mood is crucial. The thing that makes them special is their makers' love and the importance that they put into them.
As the process demands so much patience, the number of craftsmen is less compared to 50 years ago, but many continue to maintain the business preferring the handcrafted tesbih to the cheap plastic versions on sale.
Perhaps surprisingly, some of the most precious tesbihs are the simplest, and the least eye-catching as the tesbih is not supposed to be used as jewellery but rather as a life companion.
If you're looking for a meaningful gift for a loved one, why not treat them to a handcrafted tesbih.
Sources: Wikipedia/aa.com.tr/Turkish Cultural Foundation
This article was first published on 1 March 2020.