Hair is a major part of one's self-identity, and central to one's feeling of personal attractiveness. Hair loss is a benign condition with limited physical effects, but it can result in loss of self-confidence, low self-esteem and heightened self-consciousness in people affected by hair loss.
There are multiple surgical and nonsurgical treatments available, with the surgical options having greater and longer-lasting effects. Such treatments have evolved over time with advances in technology and the development of minimally invasive and painless hair transplant techniques
Male pattern baldness tends to affect most men at some point and there has been a dramatic rise in the number of people seeking hair transplants. And hair loss isn't just a guy thing, women can lose hair the same way men do.
What is a hair transplant?
Hair transplantation is a surgical technique that removes hair follicles from one part of the body, called the 'donor site', to a bald or balding part of the body known as the 'recipient site'.
The technique can be used to treat male pattern baldness and on women with thinning hair. In this minimally invasive procedure, grafts containing hair follicles that are genetically resistant to balding (like the back of the head) are transplanted to the bald scalp or areas where the hair is thin.
Hair transplants in Türkiye
The number of people who go to Türkiye for a hair transplant is increasing day by day. Hair transplants are not available on the NHS because it's cosmetic surgery.
So why is hair transplantation in Türkiye so popular?
Türkiye has truly managed to attract attention with the service it offers within the scope of health tourism and continues to offer successful hair transplantation services and lower prices to patients coming from abroad.
Hair transplants at Lokman Hekim Esnaf Hospital
Lokman Hekim Esnaf Hospital began as a small Polyclinic in 1997. It was created as a partnership between the Chamber of Artists and Artisans, the Chamber of Drivers and Automobiles and Lokman Hekim Inc.
In 2012 they moved to the new premises from where today, the 9000m2 complex combines medicine, modern technology and international services. As well as highly trained consultants and skilled surgeons, the hospital has 420 experienced and qualified healthcare professionals.
Lokman Hekim Esnaf Hospital offers a wide array of procedures and services with fixed prices that are lower than UK prices, including hair transplants for men and women using different techniques and painless anaesthesia.
Here you can see a before and after images of a hair transplant carried out at Lokman Hekim Esnaf Hospital.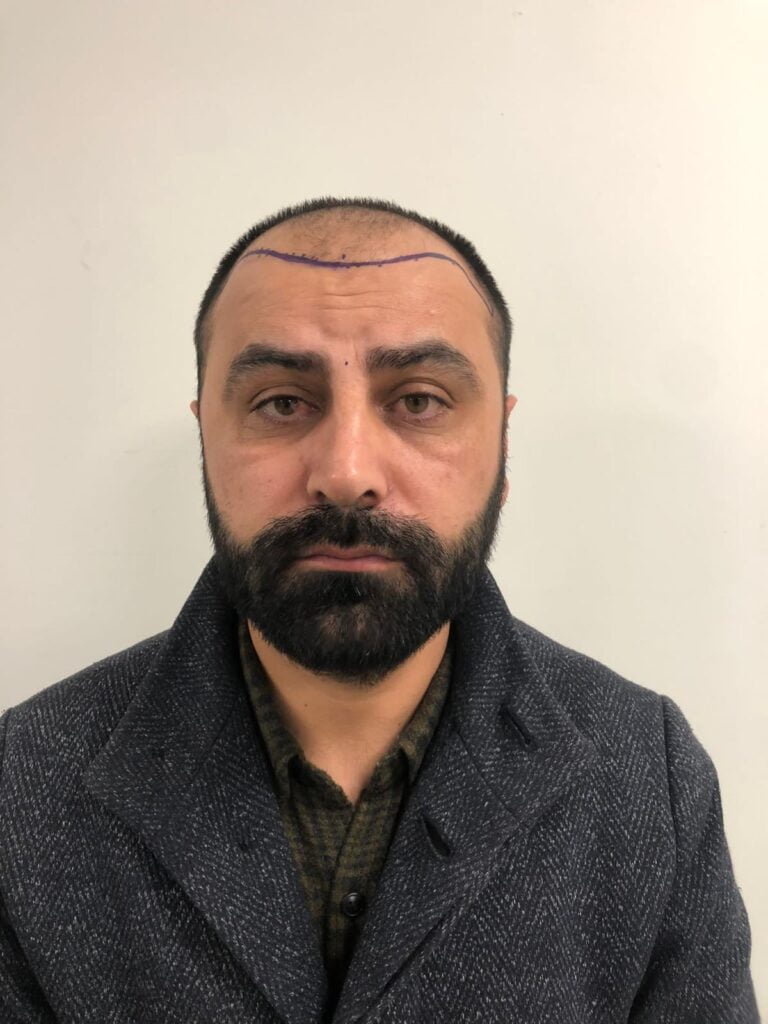 Facial hair transplants
According to a report by the The International Society of Hair Restoration Surgery, (ISHRS) carried out in June 2020, beard and moustache are popular areas for hair transplants.
The hospital also offers beard and moustache transplants for those with thin facial hair.
The friendly and professional team ensures that everyone who undergoes hair transplant treatment leaves with a positive experience.
You can find out more about hair transplants at Lokman Hekim Esnaf Hospital via this link: https://esnafhastanesi.com/pr/organic-hair-transplant
Save 10% on hair transplants
You can save 10% on hair transplants at Lokman Hekim Esnaf Hospital. Simply quote LHEH48 when you apply for treatment. To apply for treatment:
Call: +90 533 669 80 39 or +90 530 644 11 10
Email: healthtourism@esnafhastanesi.com
Foreign Patient Department
One of the things that people are concerned about when undergoing procedures in a hospital abroad is the language barrier.
The Foreign Patient Department is there to support and help both inpatients and outpatients in any way needed, including translating for doctors and nurses, especially at twice-daily ward rounds, and liaising with foreign insurance companies wherever policies allow a direct claim from the hospital.
The staff of the department are provided by the hospital expressly to assist any non-Turkish patients whether they are on holiday or living locally. English, German and French are spoken.
The department provides a full team and 24-hour service all year round.
The Department can be contacted on +90 252 612 64 00, extensions 665 or 177 or by email at: hospital@esnafhastanesi.com
In the event of an emergency or acute health problems that develop whilst you are on holiday, the hospital can also be reached via these contact details.
Follow Lokman Hekim Esnaf Hospital on social media for regular updates on Health Tourism.
Facebook: Lokmanhekimhospital
Instagram: esnafhospital_
This is a sponsored advertorial in association with Lokman Hekim Esnaf Hospital.