Sitting 25 kilometres east of Fethiye town centre and Ölüdeniz, the district of Seydikemer is gaining popularity with expats property buyers in Türkiye. Consisting of mostly flat, green plains surrounded by the Kelebekli, Boncuk, Erendağ, Uyluk Tepe and Akdağ mountain ranges, it belongs to the Muğla province of Türkiye that is also one of the most popular holiday destinations.
Seydikemer is a stunning rural and traditional village and preferred by those who want all the amenities and facilities of Fethiye close by, yet don't want to be in the thick of the action.
In winter, the landscape scenery turns into a picture postcard scene when the surrounding mountain peaks attract a thick layer of crisp white snow. However nearer to sea level, the mild temperatures ensure you enjoy the warm winter sun just as much as in the summer.
Homes in Seydikemer enjoy tranquil locations and stunning views of nature, which offers homeowners and visitors a healthy lifestyle with fresh and clean air.
Off-plan luxury villas with private pools in Seydikemer – £269,000
Turkey Homes are pleased to present this new project of two luxury villas situated in a tranquil location on the outskirts of the busy town of Seydikemer that will provide you with a healthy, back-to-nature lifestyle.
Central Seydikemer is accessible by car in just 10 minutes, hosting a range of shops, small supermarkets, schools, a family medical centre and chemists, the village mosque, tea gardens, and a choice of cafes and traditional restaurants.
The D400 highway can be reached in less than 10 minutes, Saklıkent Gorge in 30 minutes and the ancient site of Cadianda in 30 minutes.
The villas are to be built on private plots of 429m2, both to be privately walled and gated and offering three bedrooms, a large private pool, secure private parking, landscaped gardens and ample terraces for outdoor living, all surrounded green forests.
Both villas will meet the latest government building regulations for safety and insulation and will be finished to a very high standard.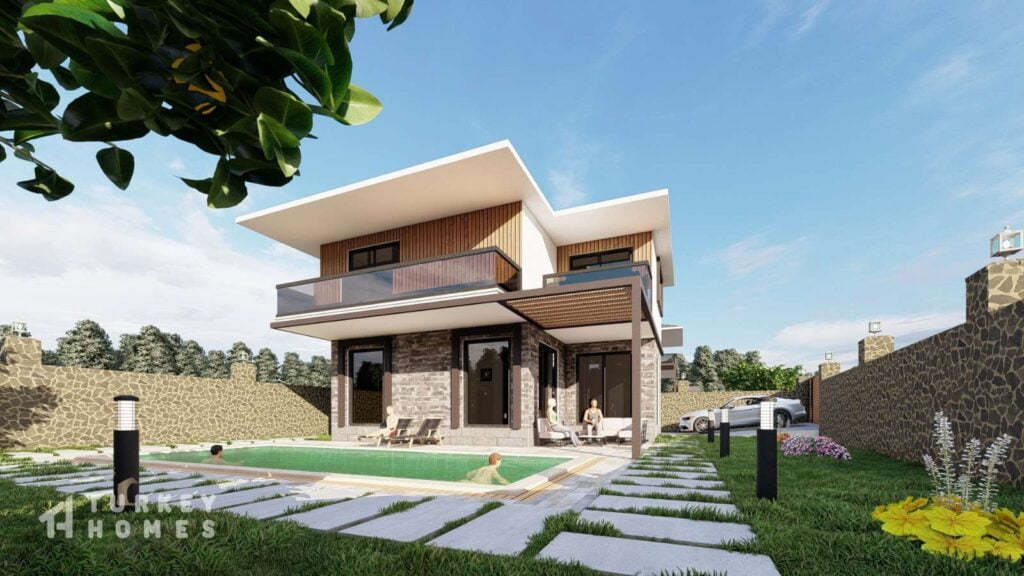 Click here for full details of these brand new luxury villas.
Please note that the images above are for illustration purposes only. Turkey Homes presents these images via the owner/developers. Images shown are 3D/computer images of an off-plan or custom build project. Thus, final finishings or materials on completion may differ. All clients have the right to discuss the materials and design elements with the developers directly for any additional requests or changes that may be subject to buyers' extra costs. Turkey Homes holds no responsibility for the marketing materials provided to them.
Contact Turkey Homes today for more details and their friendly team of Fethiye property advisors will answer all of your Turkey real estate questions, offer an insight into the possible rental yields and guide you through every step of the Turkey property buying process.
This is a sponsored advertorial in association with Turkey Homes.