This cauliflower soup recipe is vegan and full of spices like ginger and turmeric. It's a healthy soup that's easy and delicious.
Ingredients
Cauliflower (large or 8 cups of florets)
6 garlic cloves (medium)
6 tablespoons extra virgin olive oil (divided, plus additional for garnish)
1 3/4 teaspoons kosher salt (divided)
1 onion (large)
1 carrot
1.6 litres vegetable broth
1 1/2 teaspoons cumin
1 1/2 teaspoons coriander
1 teaspoon ground ginger
1 teaspoon turmeric
1 teaspoon cinnamon
1/4 teaspoon black pepper
Onion tops (Sliced green, for garnish, optional)
Paprika (for garnish, optional)
Directions
Cut the cauliflower into florets. Mix together with garlic, olive oil and salt, then roast until lightly charred in a 450-degree oven.
Meanwhile, in a soup pot sauté onion and carrot, then add vegetable broth and Moroccan-style spices: cumin, coriander, ginger, turmeric, and cinnamon.
Once the cauliflower is done, add it to the pot and blend it into a silky puree using an immersion blender. Or, you can transfer it to a standard blender.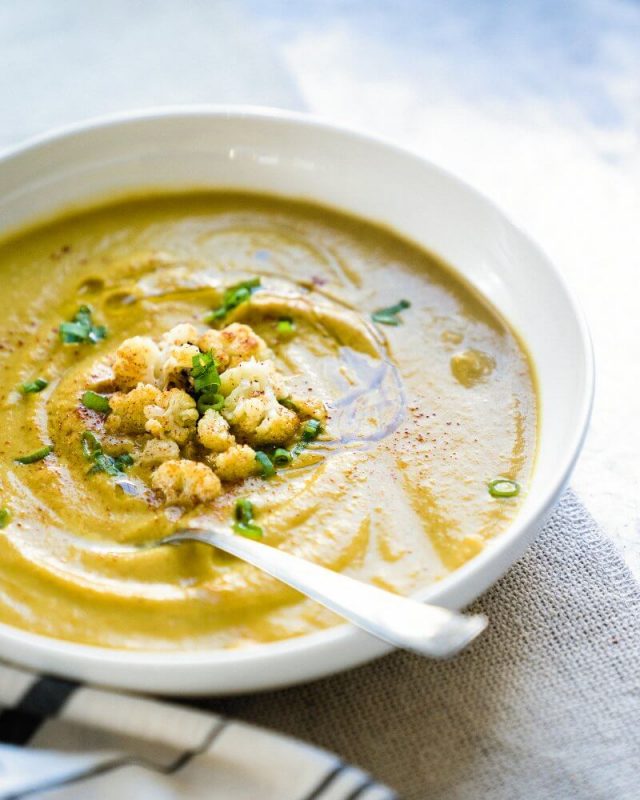 For the garnish, add a bit of the roasted cauliflower, green onion tips and a drizzle of olive oil.
Serve with fresh crusty bread.
Watch how to make Morrocan Spiced Cauliflower Soup
Afiyet Olsun
Recipe courtesy of A Couple Cooks