An utterly delicious vegetarian Turkish appetizer from Ozlem's Turkish Table, featuring cauliflower, flavored with feta cheese, onions, dill, parsley. Baking works very well here, the result is a lovely, light vegetarian dish; delicious hot or cold…
"Inspired by the delicious Zucchini/courgette fritters with feta; Mucver, as we call it in Turkish, this time I made this wonderful dish using cauliflowers. Rather than frying, I baked the cauliflower florets flavored with feta, dill, onions in the oven. The result has been equally delicious and lighter in flavor, served with a refreshing wedge of lemon."
Baked Cauliflower with Feta, Dill and Onions (Karnabahar Mücveri)
Serves 6
Ingredients
1 medium cauliflower (about 850 gr), cut into small florets
180 gr / 6 ½ oz. feta cheese, drained and crumbled
4 tbsp. / 60 ml all purpose (plain flour) – use gluten-free flour for gluten-free version
3 medium eggs, beaten
½ red onion, finely chopped
3 spring (green) onions, finely chopped
2 garlic cloves, finely chopped
Small bunch of flat leaf parsley, finely chopped
Small bunch of fresh dill, finely chopped
30 ml/ 2 tbsp. olive oil
10 ml/ 2 tsp. red pepper flakes or chili flakes
Salt and freshly ground black pepper to taste
Wedges of lemon to serve
22 cm x 22 cm (7"x7") baking dish recommended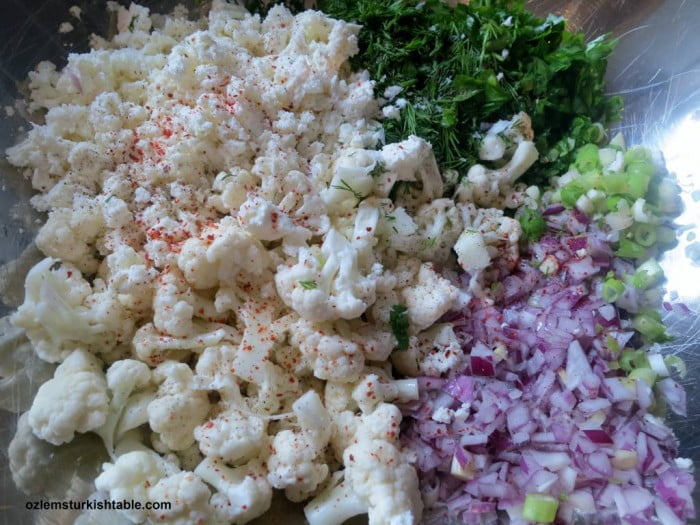 Instructions
Preheat the oven to 180 C / 350 F
Cut the cauliflower in small florets, wash and drain the excess water in a colander/sieve.
Beat the eggs in a small bowl.
Place the drained cauliflower florets in a large mixing bowl. Stir in the chopped red onions, garlic, spring (green onions), parsley, dill, olive oil and the crumbled feta cheese to the bowl.
Season with salt, ground black peppers and chili (red pepper flakes). Using your hands, combine all the ingredients. At this stage, you can check the seasoning – add more salt or peppers to your taste.
Stir in the beaten egg and flour to the cauliflower mixture and combine well.
Grease your baking dish with 15 ml/ 1 tbsp. olive oil and pour in the mixture to the baking dish.
Bake in the preheated oven (180 C / 350 F) for 25 – 30 minutes, until the cauliflower florets have a nice light brown color on top.
Slice and serve hot with a wedge of lemon and crusty bread aside. Cacik dip of yoghurt with diced cucumber and garlic or Shepherd's salad with tomatoes, cucumbers and spring onion in lemon juice and olive oil dressing would go well with this delicious dish.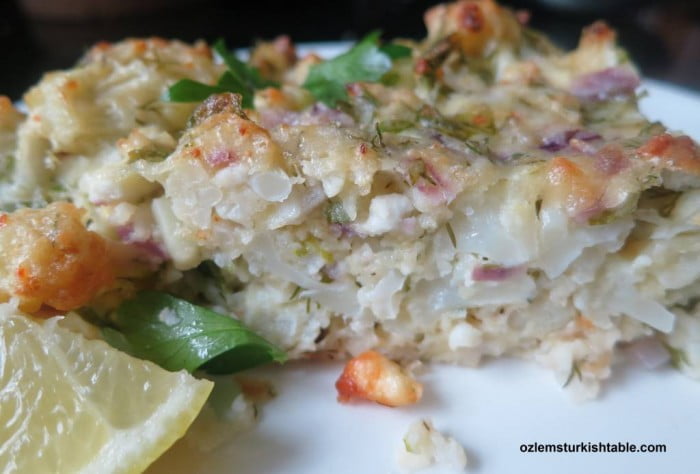 You can serve this baked cauliflower florets with Cacik dip of yoghurt with cucumber and garlic or the Shepherd's Salad; it would make a delicious lunch or light supper with crusty bread and wedge of lemon aside. Baked Cauliflower with feta, dill, onions, Firinda Karnabahar Mucveri would also accompany grills well – delicious hot or cold.
You can find the recipe for Kabak Mucveri here:
Ozlem's Turkish Table: Recipes from My Homeland
"If you enjoy wonderful hot and cold mezes, vegetables cooked in olive oil like this dish and more, I have included a large variety of vegetarian courses in my cookery book, Ozlem's Turkish Table, available to order at this link."
Afiyet olsun
Özlem
This article was first published with kind permission from Özlem Warren.