Courgette fritters with feta and dill; make Mucver a part of your meze table…
Zucchini are the most widely available summer squash in Turkey. They are very versatile, used in many dishes and their flowers are perfect for stuffing. These wonderful vegetarian fritters are fantastic accompanied by garlic-infused yoghurt or a leafy salad and crusty bread. You can enjoy them as a meze/appetizer for supper or light lunch dish. The bite-size versions make great party/finger food too. They are also wonderful served next day as a cold snack.
The trick with them is to make sure you squeeze out any excess water from the zucchini, after grating.
Ingredients
Serves 4-6
Preparation time: 30 minutes Cooking time: 25-30 minutes
3 medium zucchini (courgette), grated
150 gr / 6 oz Turkish white cheese or feta cheese, crumbled
1/2 medium onion, finely chopped
3 green (spring) onions, finely chopped
3 garlic cloves, finely chopped
1 bunch dill, finely chopped
3 eggs, beaten
45 ml / 3 tablespoons all-purpose (plain) white flour
Pinch of paprika or red pepper flakes (optional)
Salt and ground black pepper to taste
Canola oil (or sunflower oil) for shallow frying
Sprigs of dill for garnish
Garlic yoghurt to serve (optional)
Method
Place the grated zucchini in a colander, sprinkle with a little salt and leave to drain for 15 minutes. In a separate bowl, crumble or grate the feta cheese.
Using a tea towel, squeeze out any excess water from the zucchini and put in a bowl.
Transfer the flour to a large bowl and beat in the eggs. Add the remaining ingredients, season with salt and pepper and beat into a batter (Take care not to add salt if your cheese is salty). Mix well.
In a frying pan, heat enough oil to shallow fry. Using a tablespoon, drop the spoonfuls of batter mix into the hot oil. Fry over a medium heat on both sides until golden brown. Remove with a straining spoon and drain on absorbent kitchen paper towel.
If you prefer a lighter flavor, spread the mixture on a greased baking dish and bake (at 180 C / 350 F) for about 35-40 minutes, like my mother does. You can then cut into squares and serve.
Serve
This meze (appetizer) can be enjoyed warm or you can make it in advance, and serve as a cold meze. Garnish with sprigs of dill and accompany with garlic-infused yoghurt.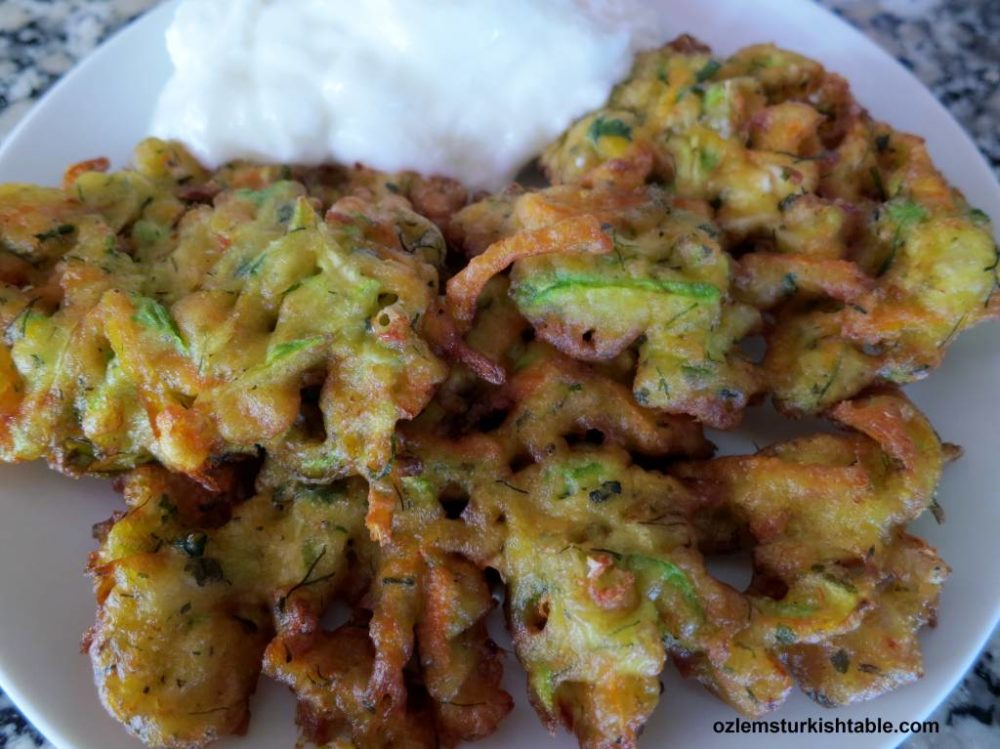 For garlic-infused yoghurt, crush a couple of garlic cloves with salt. Combine the plain yoghurt and garlic and beat until smooth. Add salt to taste.
Afiyet Olsun,
Ozlem
Note: Squash is an effective diuretic and its potassium content benefits those with high blood pressure. Dill is known to aid digestion.
Try this recipe for Baked Cauliflower with Feta, Dill and Onions (Karnabahar Mücveri).
This recipe for the popular Kabak Mucveri is from Ozlem's Turkish Table and was first published on 22 September 2017 with kind permission from Ozlem Warren.