The European Union Monday granted the status of Protected Geographical Indication (PGI) for the Turkish dessert Antakya Künefesi – which is a local delight from the Antakya district of southern Hatay province.
"Antakya Künefesi is one of the few desserts that contain cheese" in Türkiye, the European Commission explained in a statement announcing the decision. The dessert is produced in Hatay province, with a recipe "transferred from one generation to the next based on master-apprenticeship relationship," the document further said.
The dessert is made from a lightly baked thread-like dough (künefelik kadayıf), fresh Antakya cheese produced for künefe, butter, and syrup. This is the ninth Turkish food product that has received EU protection, including "Giresun Tombul Fındığı" premium hazelnuts from the Black Sea Region or baklava from Gaziantep.
The European Union maintains a register for the names of agricultural products, foodstuffs, and drinks that enjoy protection across the bloc, featuring geographical indications, product qualities, and legal protection instruments.
Source: Daily Sabah
Hatay was a city known for its rich cultural heritage, historical significance, and its wide variety of traditional dishes, especially künefe and kebab appetizers. One of the many painful scars left by the devastating earthquake of Feb. 6, 2023, was the near destruction of this magnificent city.
Make Künefe with Özlem
When Özlem Warren of Ozlem's Turkish Table, visited Fethiye in May 2022, Künefe was one of the dishes she prepared in her cookery classes.
Antakya is Özlem's home town and her cooking has and continues to be, inspired by this magical land and its people.
Here's the recipe if you would like to make this dessert at home, it's surprisingly easy to make and completely delicious.
Künefe
"This glorious baked pastry strands in syrup called künefe is a signature dish from my hometown, Antakya. I remember as a child watching the delicate pastry strands (kadayif) being squeezed through a huge sieve at our local künefe shop. My grandmother would prepare künefe in her garden as we waited excitedly for any leftovers of the buttery soaked pastry strands.There is a particular unsalted cheese called beyaz künefelik peynir we use for künefe in Antakya. Unsalted fresh mozzarella will work just as well. I also like to add a little clotted cream to the filling (or kaymak, Turkish thick cream from water buffaloes, if available). Künefe can be baked in one large pan or as smaller individual portions." – Özlem Warren
Serves 6
Ingredients
225g/8oz shredded kadayif – künefe pastry strands, thawed if frozen
145g/5oz melted unsalted butter
300g/12oz fresh mozzarella, sliced (or Antakya's white cheese for künefe, künefelik peynir or dil peyniri in Turkey if you can get it)
45ml/3 tablespoons kaymak or clotted cream – optional
For the syrup:
225g/8oz granulated sugar
120ml/4fl oz water
Juice of ½ small lemon
30ml/2 tablespoons crushed pistachios for garnish (optional)
Method
Preheat oven to 350°F/180°C/Gas Mark 4
First, make the syrup. Place the sugar and water in a pan and simmer over low to medium heat until the sugar is dissolved. Stir in the lemon juice and simmer for about 15 minutes, until the syrup coats the back of the spoon. Then remove from the heat and leave the syrup to cool. It is essential that the syrup needs to be cool when poured over the cheese-filled pastry strands.
Using some of the melted butter, grease a large baking tray.
Soak the pastry strands well in the melted butter. Use more butter if necessary, as it is important that the pastry is well soaked in order to prevent it from burning during baking.
Divide the pastry strands into two. Spread half of the strands in the base of the baking pan, and press it down with your fingers.
Spread or crumble the slices of fresh mozzarella cheese and the clotted cream or kaymak (if used) over the top of the pastry. Then cover with the remainder of the pastry, pressing down firmly.
Bake the pastry in the preheated oven for 35-40 minutes or until the strands are a deep golden colour.
Cut the hot, baked pastry strands into portions and pour the prepared cool syrup over them.
Serve immediately while still hot and the cheese is gooey. Serve künefe with kaymak or maraş dondurma and a sprinkling of ground pistachio nuts over the top if you like.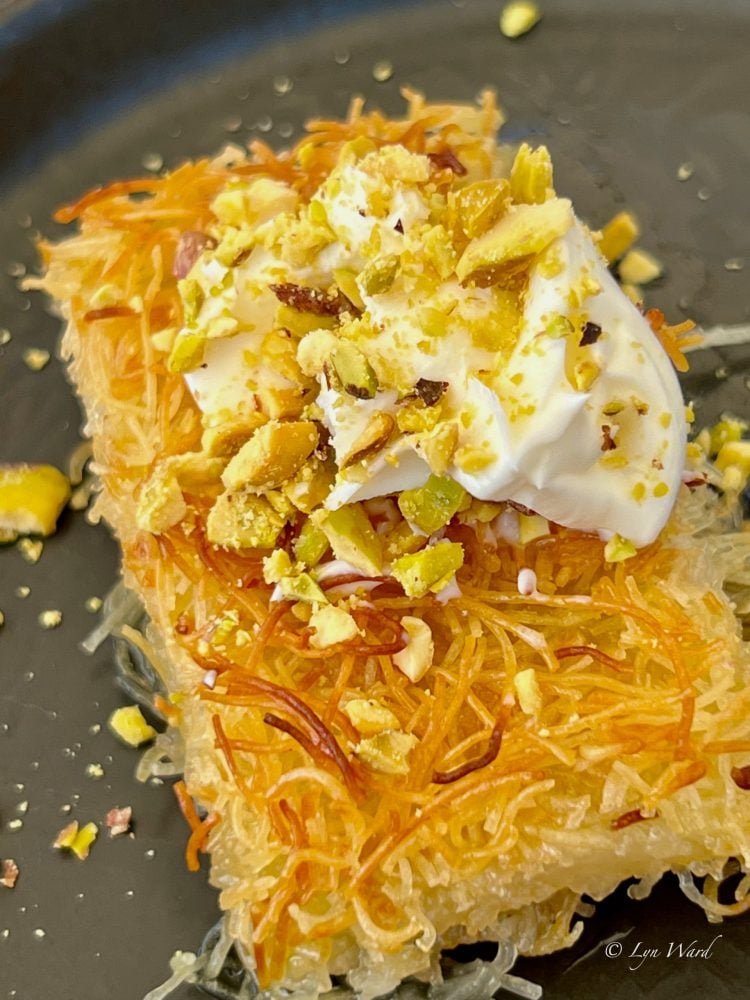 Afiyet Olsun
You can read more about maraş dondurma in our previous article.