It is undeniable that the weather plays an important role in how much you enjoy your holiday.
While most people are searching for the sun, however, news coverage of extreme weather conditions and wildfires has made us more aware of the consequences of extreme heat, such as intense rainfall, flooding or wildfires.
Southern Türkiye has experienced massive wildfires over the last two summers and, as a result, the country is running awareness campaigns and taking action to prevent wildfires, particularly those that are man-made.
Preventing forest fires in Muğla
In Muğla, which is one of the regions of Türkiye most prone to forest fires, the Metropolitan Municipality distributed brochures containing information about forest fires at bus stations, airports and ports to domestic and foreign tourists arriving in Muğla by air, land and sea.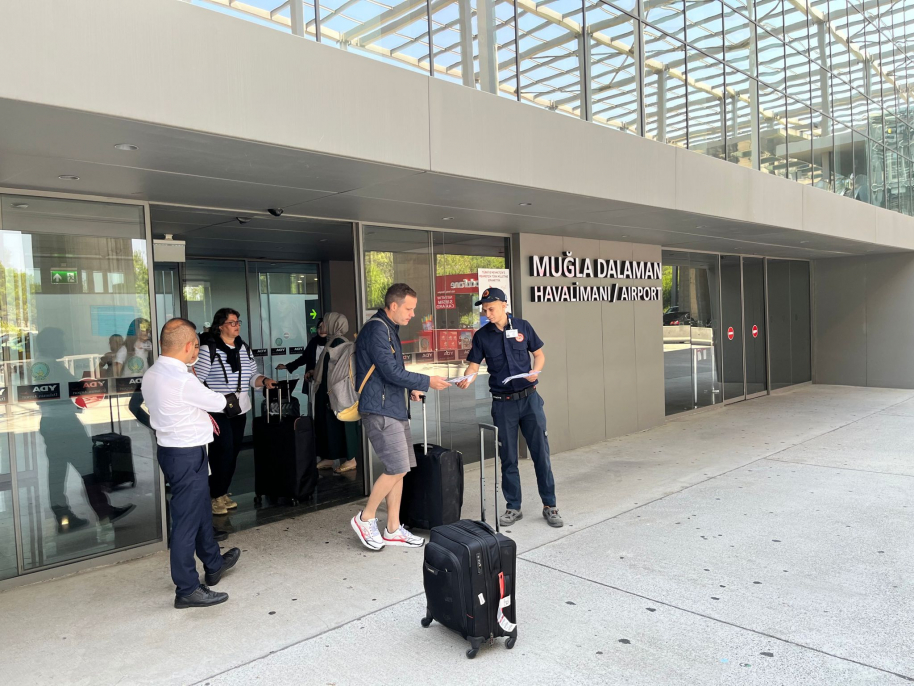 Let's Not Cause a Fire Disaster
The brochure includes the following message:
Dear guests; Welcome to Muğla, one of the heavenly corners of the world with its nature, sea, historical and cultural structure. We wish you a holiday that you will never forget, where all your expectations are met, everything you dream of comes true. More than 60 percent of the surface area of ​​our province consists of forest areas. This causes our province to be one of the regions where the risk of forest fires is very high in the summer months. Unfortunately, more than 90 percent of forest fires are man-made. Let's be careful during the holiday so that we do not unintentionally cause a fire disaster. In this way, nature can continue to respond to the needs of future generations.
Things to be aware of
The brochure also includes details of things to be aware of that are relevant to everyone.
Although there are many causes of forest fires; ignorance, negligence, accident, carelessness and intent, a very large proportion are caused by human beings. For this reason, you should be very careful and aware of the risks, especially in hot summer months.
112 is now the only number for emergency in our country.
If you see a fire, the emergency number 112 should be called immediately and the address should be stated as clearly as possible. Meteorological notifications made on television, radio and the internet should be followed, and you should be more careful and alert during the critical days and hours specified in these notifications.
It is strictly forbidden to enter the forest areas where entry is prohibited. Unnecessary fires should not be lit in the predetermined campsites, and the camp area should not be left before the fire is completely extinguished. The same precautions should be taken into account in agricultural areas such as olive groves and areas covered with maquis vegetation (heath, bush). A fire that will start here will spread very quickly and spread to forest areas. Inspections in the forests will be carried out and those who violate the ban will be penalized.
Garbage, glass bottles, cigarette butts, any other waste should never be thrown out of a moving vehicle as these can cause, what can quickly turn into, big fires.
The measures we take to prevent fire in our homes may save a whole forest from burning.
A fire that starts in a house close to a forest area can be the trigger of a forest fire if it cannot be extinguished in time.
If the electrical installations in your homes are old, they should be renewed, and residual current relays should be installed in fuse boxes.
Our chimneys should be cleaned at regular intervals. Soot accumulated in the chimney can easily ignite the forested areas with the effect of the wind.
Dry fuels such as pine ash and leaves accumulated in the roof gutters should be cleaned. These can ignite easily, causing a roof fire.
Each house should have at least one 6 kg fire extinguisher.
Weeds around our homes should be cleaned at regular intervals.
Mobile Fire Stations
Muğla Metropolitan Municipality has established mobile stations in Bodrum, Fethiye, Milas and Seydikemer districts for early intervention in fires that may occur throughout the summer.
The pioneer mobile station is in Bodrum Marina and will be able to immediately respond to vehicle accidents and possible vehicle fires in the city center, where there is heavy population and traffic, especially in the summer months.
In addition, mobile stations were established in Seydikemer Kadı, Fethiye Karaçulha Hali and Milas Koru Mahallesi. Mobile station teams will work between 11:00 and 19:00, which is the time when fire incidents are most common, and will quickly respond to fires.
Teams from the Directorate of Forestry Operations in Muğla's Marmaris district, where more than 5 thousand hectares of forest area were destroyed in large forest fires in the last two years, distributed brochures to drivers at the district entrances and explained fire prevention measures.
Ministry sets 10-minute target for fire response
Agriculture and Forestry Minister İbrahim Yumaklı has announced an ambitious target of 10 minutes for this year's fire response time.
He highlighted the progress made, stating that the fire response time, which stood at 40 minutes in the past, is currently an impressive two minutes notification time, with a response time of 11 minutes.
According to the United Nations Environment Program, the world's average temperature is predicted to rise by 6 degrees by 2100, with a 30 percent decrease in summer precipitation. The key to preventing this lies in protecting and expanding forest resources.
Highlighting the vulnerability of the country's forests, Yumaklı reminds us that 60 percent of the country's forests face first and second-degree endangerment.
Sources: https://www.gercekfethiye.com/turizm-merkezlerine-yangin-uyarisi/59759/
https://www.gercekfethiye.com/orman-mudurlugu-arac-suruculerini-yangina-karsi-uyardi/59783/
https://www.hurriyetdailynews.com/ministry-sets-10-minute-target-for-fire-response-184218