It's quince (ayva) season and you will see this oddly shaped fruit, that look like a cross between a pear and an apple, in abundance on the markets.
Try this recipe for a delicious dessert.
Quince Dessert (Ayva Tatlısı)
Ingredients
10 portions
5 medium quinces
1 kg. sugar
1 lemon, squeezed
3 cloves
5 cups water
2 sour apples
250 gr. Kaymak (clotted cream)
Chopped walnuts or pistachio
Method
Peel the quince, divide in half and cut out the core.
Arrange in a shallow saucepan.
Peel the apples and grate over the quince.
Sprinkle the sugar over and add the water, lemon juice and cloves.
Cover the pan with a lid or aluminium foil and cook over gentle heat until the quince is tender and the juice has thickened.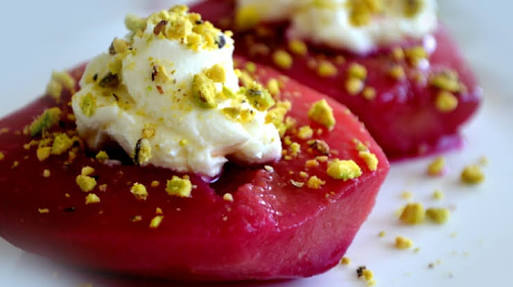 Serve cold with kaymak (clotted cream) and walnuts or pistachio.
Afiyet Olsun